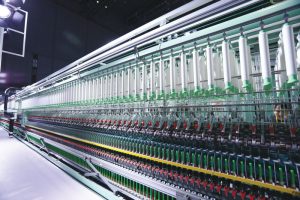 The seventh edition of the combined ITMA Asia + CITME, though postponed and rescheduled, prepares to move forward in June.
TW Asia Special Report
ITMA Asia + CITME will be held at the National Exhibition and Convention Centre (NECC) in Shanghai June 12-16, 2021. In light of the global coronavirus pandemic, show owners CEMATEX and Chinese partners, the Sub-Council of Textile Industry, CCPIT (CCPIT-Tex), China Textile Machinery Association (CTMA) and China Exhibition Centre Group Corp. (CIEC) postponed and rescheduled the joint exhibition originally planned for October 2020.
At the time, Fritz P. Mayer, then president of CEMATEX, said: "We seek your understanding as this decision has been made with the safety and health concerns of our participants and partners in mind. The global economy has been severely affected by the pandemic. On a positive note, the International Monetary Fund has predicted that there would be global economic growth at 5.8 per cent next year. Hence, it is more prudent to look at a date around mid of next year."
Wang Shutian, honorary president, CTMA added: "Our exhibitors, especially those from other parts of the world, are deeply affected by the lockdowns. Therefore, we believe that the combined show with the new exhibition dates would be timely when the global economy is predicted to improve. We would like to thank the exhibitors who have applied for space for their strong vote of confidence in the combined show."
Proceeding With Safety In Mind

According to the organizers, "The show owners and organizers are committed to working closely with the authorities, such as the Joint Prevention and Control Mechanism of the State Council and the Shanghai Convention and Exhibition Industries Association (SCEIA), to implement preventive and social distancing measures to enable the combined exhibition to be held safely."
"We would like to assure that the safety of our participants, partners and staff during the exhibition is of utmost importance to us," said Ernesto Maurer, current CEMATEX president. "Strict safety measures will be implemented on-site. Visitors should purchase their badge online to avoid onsite queues and allow better and smooth entry process," he urged.
Despite the COVID-19 pandemic, organizers report the seventh edition of the exhibition is expected to feature a gross exhibition space of 170,000 square meters; and to date, has attracted the participation of 1,500 exhibitors, including many established machinery manufacturers from 24 countries. The last combined show in 2018 attracted the participation of 1,733 exhibitors from 28 economies and registered a visitorship of more than 100,000 from 116 countries and regions.
Online Registration Is Open
Visitors who purchase their badge at itmaasia.com or citme.com.cn will enjoy special online rates. Early-bird rates of 60 renminbi ($9.10) for a five-day badge and 30 renminbi ($4.60) for a one-day badge are available until June 6. Standard onsite rates cost 100 renminbi ($15.20) for a five-day badge and 50 renminbi ($7.60) for a one-day badge. Visitors who register online will be also given access to the exhibition e-catalog.
The organizers report ITMA Asia + CITME 2021 intends to be a huge showcase of cutting-edge solutions for textile makers with strong support from all major trade associations around the world. The exhibition is showcased by product category for the convenience of visitors with stringent control in force to protect intellectual property.
The exhibits will be arranged using the following categories: Braiding; Weaving; Knitting & Hosiery; Research And Innovation; Printing; Garment Making And Embroidery; Finishing; Recycling; Colorants & Chemicals; Nonwovens; Spinning & Man-Made Fiber; Winding, Texturing & Twisting; Testing: Logistics, Software, Equipment For Plant Ops & Services For Textile Industry
ITMA Asia + CITME is organized by Beijing Textile Machinery International Exhibition Co. Ltd. and co-organized by ITMA Services. The Japan Textile Machinery Association also is a special partner of the combined show.
---
For more information about ITMA Asia + CITME 2021, visit itmaasia.com or citme.com.cn.
---
April 21, 2021