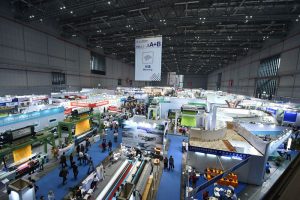 Exhibitor space for the sixth edition of the combined ITMA Asia + CITME show is sold out, and organizers are expecting large numbers of visitors.
TW Asia Special Report
ITMA Asia + CITME will be held at the National Exhibition and Convention Centre (NECC) in Shanghai October 15-19, 2018. After a February date-change announcement because of a Chinese national initiative affecting all scheduled events at the NECC in October, event owners — the European Textile Machinery Manufacturers Association (CEMATEX) — and China-based partners — the Sub-Council of Textile Industry, CCPIT (CCPIT-Tex); China Textile Machinery Association (CTMA); and China Exhibition Centre Group Corp. (CIEC) are preparing for a sold-out show.
The event is organized by the Beijing Textile Machinery Exhibition Co. Ltd. and co-organized by ITMA Services. In addition, the Japan Textile Machinery Association (JTMA) is a special partner of the show.
An initial overwhelming response from exhibitors for the 2018 edition prompted organizers to book additional space in the North Hall of the NECC, and the sector allocation plan was revised to accommodate additional exhibitors.
"We had a long waiting list for space by the deadline for applications," said Wang Shutian, CTMA president. "Therefore, we made the decision to book the additional space available in the venue."
"We are delighted that the combined exhibition has continued to garner strong interest," said Fritz P. Mayer, president, CEMATEX. "It proves that our exhibition is the industry-leading platform in Asia for textile machinery manufacturers to showcase a wide spectrum of cutting-edge solutions."
In 2018, Chinese exhibitors have booked the largest area of floor space, followed by exhibitors from Germany, Italy, Japan and Switzerland. Spinning machinery is the largest exhibitor sector followed by finishing and dyeing, knitting, weaving and nonwovens.
The owners report the positive response from exhibitors is bolstered by "China's ongoing strategic push for innovation to enhance the global competitiveness of Chinese textile and other industry sectors under the government's 13th Five-Year Plan period (2016-2020)."
"Interest in the combined show remains extremely strong, especially from Chinese textile machinery manufacturers," added Shutian. "As China's textile industry continues its transformation, the demand for advanced machinery and technology is on the rise."
Registration Now Open, Early Bird Pricing Available
In 2018, ITMA Asia + CITME will offer:
a showcase of cutting-edge solutions;
strong support from all major global trade associations;
approximately 100,000 visitors from all sectors of the global textile industry; and
more than 1,700 exhibitors covering some 170,000 square meters of exhibition space.
Stringent controls also will be in place to protect the intellectual property of exhibitors.
The exhibits will be arranged using the following categories:
Spinning, weaving and texturing;
Nonwovens;
Braiding;
Research and innovation;
Weaving;
Knitting and hosiery;
Garment making and embroidery;
Printing;
Equipment for plant ops, logistics, services for textile industry, software and testing; and
Colorants, chemicals, finishing and recycling.
In 2016, despite some controversy within the industry about the organizer's decision to run on a biennial schedule rather than an expected four-year cycle, ITMA Asia + CITME welcomed 1,673 exhibitors from 28 economies and registered more than 100,000 visitors from 102 countries and regions.
Visitors to the 2018 show may purchase a badge until September 30 at an early bird rate of 60 renminbi for a five-day pass, and 30 renminbi for a single-day badge. After September 30, prices rise to 100 and 50 renminbi respectively. Once purchased, visitors may print their own badge to save time and avoid registration lines during the show.
October 15-18, the show floor is open to visitors from 9 a.m. until 5 p.m.; and on October 19, the show is open from 9 a.m. until 4 p.m.
"We are looking forward to welcoming large numbers of visitors from both inside and outside of China to the combined show, and we would like to encourage our visitors to plan their trip early and purchase their badge online now to beat the onsite queues," Mayer said. "Registering ahead of time on the show website provides visitors with useful information for preparing their trip and finding out the details on the exhibitors."
---
For more information about ITMA Asia + CITME 2018, visit itmaasia.com or citme.com.cn.
---
August 23, 2018