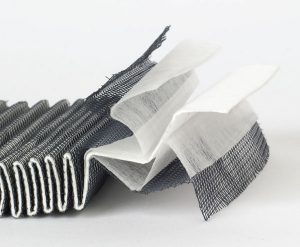 The filtration market is comprised of some 20 varied market segments all offering opportunities for technical textile producers.
By Edward C. Gregor
Technical textiles play a major and profitable role in filtration media. A wide variety of fibers, dref yarns, nonwoven fabrics, multifilament and monofilament woven fabrics, and in some cases blends or combinations of more than one of the above, are used in filtration applications. Within this article, dollar amounts are for North America specific to fiber, textile and nonwoven filtration media within the overall the market of nearly $2 billion. Filtration media fulfills a large number of specific uses as well as an overwhelming number of smaller niches that when combined, provides for overall growth at a rate higher than many developed counties gross domestic product (GDP) growth rate.
Growth is driven by many factors, often led by legislative actions and laws from global, national, state, regional and local governments and agencies for a cleaner environment. Bottom line, legislation has been filtration's best friend. No less important, filtration is used widely to ensure product quality of many manufactured products from chemicals to pharmaceuticals and many other manufactured goods.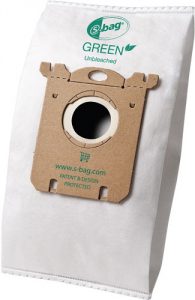 Nonwoven Fabrics
Nonwoven filtration fabrics are one of the largest market segments in the nonwovens industry and arguably one of the most profitable. "The filtration industry is seeing a fair amount of consolidation, at all levels with considerable M&A activity over the last several years," said Brad Kalil, director of Market Research And Statistics, with the Cary, N.C.-based Association of the Nonwoven Fabrics Industry (INDA).
This segment utilizes man-made polymer and inorganic fibers to produce the filters. Polyester and polypropylene dominate; with nylon, fiberglass, meta-aramids, fluoropolymers and polyphenylene sulfide (PPS) and other polymers also used because of their special properties. In addition to these fibers, a sustainable, renewable polymer produced by Minnetonka, Minn.-based NatureWorks LLC is beginning to find its way into the filtration market. "Renewable Ingeo™ PLA [polylactic acid] fibers are used in increasing volumes where disposable filters are found such as spunbond and meltblown fabrics in vacuum cleaner bags as well as a broad range of performance applications, including coffee and teabag filters," reported Robert Green, global business director, Fibers & Nonwovens, NatureWorks. "Other nonwovens, like PLA nanofibers, exhibit exceptional processing consistency, a range of charge capabilities, and better nonwoven structure development offering lower pressure drop."
The four most widely used nonwoven man-made fabrics are:
needlefelts produced from staple fibers;
wetlaid produced from short-cut fibers;
spunbond; and
meltblown fabrics.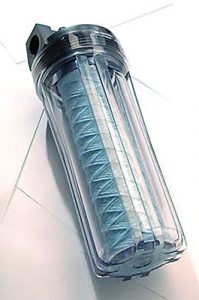 In the latter two formats, fibers are formed in-situ directly from a polymer melt creating nonwoven fabrics without the use of preexisting fibers. Airlaid nonwovens are formed from short fibers and/or wood pulp. Although not a true nonwoven, Dref spun "yarns" are a specialty media type that bypasses the roll goods format. The bulky Dref yarns are directly wrapped around a center core of a cartridge tube to form what is known as string wound cartridges. "We have produced yarns for string wound cartridges for over 25 years, an important fiber medium for a large number of users," said Gilbert Patrick, president, Kings Mountain, N.C.-based Patrick Yarns, a large dref yarn supplier.
The most-used nonwovens in terms of sales revenue are needlefelt fabrics typically formed made using polyester, but sometimes polypropylene and other polymeric fibers including meta-aramids and PPS. Heavy nonwoven fabrics in the 14 to 22 ounce per square yard (oz/yd2) range are used in baghouse filters to capture particulate emitted within coal-fired power plants and multiple contaminates in industrial facilities before escaping into the atmosphere or a work environment. Liquid fabric bags made from needlefelts often are in the 8 oz/yd2 range, and remove particulate from liquid streams and many times serve as prefilters in a wide variety of industries including chemical processing and metal working processes.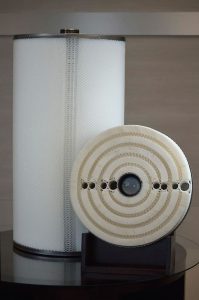 Spunbond fabrics are much lighter in weight and come in the 0.5 to 4 oz/yd2 range. Generally, these nonwovens are made using polyester, polypropylene and nylon; and are found in many common applications including pleat support separators for microporous membrane cartridges, coolant systems, and swimming pool and spa filters. Spunbonds are available from many suppliers including Cranbury, N.J.-based Avanti, Evansville, Ind.-based Berry Plastics and Cerex Advanced Fabrics Inc., Cantonment, Fla.
"Cerex Advanced Fabrics' spunbond nylon fabrics provide filter producers with a thinner, stronger and more uniform backing substrate that can withstand high temperatures, system pulsations and resistance to chemical attack," said Jim Walker, president and CEO, Cerex. "Nylon allows filter designs with more pleats providing more filter surface area, which reduces pressure drop and increases dust holding capacity, as well as provides excellent durability for today's longer service intervals."
Meltblown fabrics are produced in quite large volumes as roll stock, and are found in both air and several liquid filtration products because of their high dirt hold capacity. Over the past 25 years, meltblown liquid cartridges — also known as spray spun cartridges — where fibers are deposited on a rotating mandrel akin to a lathe and finished into 3-inch-diameter by 10-inches long cartridges in a single-step process have become more common place. Meltblown cartridges bypass the use of roll goods and tend to be lower cost because of their efficient manufacturing process.
Houston-based Filtration Technology Corp. (FTC) produces Platinum filters capable of holding extremely large quantities of contaminate using nonwoven fabrics. "FTC supplies liquid filters in many configurations, but none compare to our Platinum Series filters, which can retain up to several hundred pounds of contaminant," said Chris Wallace, vice president, FTC. "The unique pleat pattern in our patented Platinum technology maximizes the media surface area in a pressure vessel resulting in lower flux rates and higher contaminant loading capacity per filter cartridge. The Platinum technology provides our customers with longer on line life which translates to lower direct filtration costs, lower maintenance costs and minimal down time. Another feature of this technology is the flexibility to offer the technology to a broad range of applications and markets, since we can use any nonwoven or wetlaid fabric in this unique pleat pattern."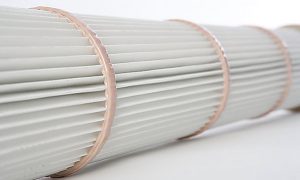 Nanofiber Nonwovens
One of the newest technologies trending in filtration media is nanofiber nonwovens. Fine fibers in the nano size range are added in weights ranging from 1 to 2 grams per square yard to the surface of heavy wetlaid and spunbonded nonwovens. Pleated filters are intended to collect fine particles on the upstream surface of the composite media. To date, this technology largely has been limited to air filtration in dust collection cartridges or engine air-intake filters for use in automobiles and trucks. "A large and highly-diversified filtration product supplier like Clarcor uses virtually every imaginable fabric, especially synthetic and/or cellulosic blended nonwovens, in a wide range of products from power generation to transportation, oil and gas, residential air, along with water and sewage treatment and many others," said Leonard Castellano, chief engineer at Franklin, Tenn.-based Clarcor's Innovation Center. "There is hardly an industry we touch that doesn't use textiles, nonwovens, from microfiber to nanofiber constructions in one form or another." Interestingly, Parker Filtration recently made a bid to acquire Clarcor — Clarcor earlier this year became the new owner of FibeRio Technologies, a producer of nanofiber equipment.
Wetlaid Nonwovens
Wetlaid filtration media are made on standard paper-making equipment. The process typically uses short-cut man-made, fiberglass and/or cellulosic fibers, including blends found in the lubricant, oil and engine air-intake filter markets common in auto and truck vehicles. HEPA/ULPA air and many laboratory use filters made from wetlaid micro and macro fiberglass media, as do hydraulic filters, which often are combined with a spunbond nonwoven carrier fabric.
Wetlaid polyester and polyester binder fibers are used as support — backing — fabrics for membranes in reverse osmosis (RO), nanofiltration and ultrafiltration (UF) processes and spiral-wrap module designs. Leading substrate suppliers include Japan-based AWA Paper and Alpharetta, Ga.-based Neenah Paper. Membrane supports are highly specialized and must withstand high system pressure, lie perfectly flat across the fabric width and have no standing fibers that may penetrate a coated membrane thereby covering the substrate's surface.
Precision Woven Monofilament Fabrics
Monofilament fabrics primarily are constructed using polyester or nylon with other polymers used in smaller volumes. Yarns range in diameter from a fine 20 microns to a coarse 1,000 microns, depending upon the application. Fabric costs are related to the yarn size and number of yarns per square foot. Fabrics tend to be used in surface filters, and are able to screen or sieve particulate of a defined size. Applications include medical filters used in open heart surgery, automotive transmission filters, air conditioning and fuel injection filters, filters used as sifting screens in flour and wheat processing, as well as heavy fabrics used as sludge dewatering belts. In North America, the market size is nearing $80 million and is close $200 million worldwide. Leading global fabric suppliers for monofilament filter fabrics include Switzerland-based Sefar AG and Italy-based Saati S.p.A.
Wire Cloth
The textile industry does not normally consider wire cloth and other metal media textile in the traditional sense, but this product is closely related to traditional textiles and is used as an alternative filtration media, especially in applications were precision woven monofilament fabrics are used. Precision wire cloth is woven primarily by Europe-based vendors including Switzerland-based G. Bopp & Co. AG and Germany-based Haver & Boecker OHG. Non-precision constructions tend to come from Asia. Asian-sourced wire cloth often is used where liquid flow pressures are high enough to require media rigidity, encapsulating a non-rigid nonwoven and/or wetlaid fabric in a sandwich construction. North American production is relatively modest and mostly focuses on specialty weaves made using high-alloy metals. Wire cloth commonly is used in polymer filtration to produce textile fibers, thin films, aerospace filters and is widely used in sieving and sifting. In North America, the roll goods market size totals $100 million.
Multifilament Fabrics
By and large, multifilament man-made filtration fabrics are not particularly common beyond modest volume in plate and frame applications, or as blends of multifilament and monofilament yarns from Germany-based C. Cramer GmbH & Co. KG, Sefar, Dodenhoff Industrial Textiles Inc., Westlake, Ohio, to name a few manufacturers.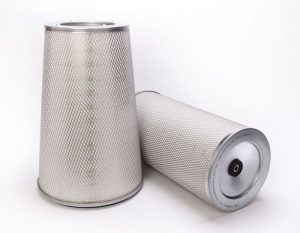 Woven And Nonwoven Glass Fabrics
Woven glass fabrics are found in high-temperature end-uses, primarily in baghouse constructions. Notable North American woven fabric producers include Greensboro, N.C.-based BGF Industries Inc., Anderson, S.C.-based JPS Composite Materials and Filtration Specialties Co., Abilene, Texas. Wetlaid glass producers include Manchester, Conn.-based Lydall Inc., East Walpole, Mass.-based Hollingsworth & Vose and France-based Bernard Dumas. Applications include HEPA/UPLA, coalescing, laboratory and hydraulic filter media. The combined global filtration media market for woven and wetlaid glass fabrics are positioned at more than $300 million.
Knit Fabrics
Raschel, circular-knit and tricot knitted fabrics are used in filter media, although consumed in very limited volumes. However, certain warp knits are widely featured in spiral-wrap modules used in UF/NF and RO, and constructed of bicomponent yarns, heat bonded to stabilize the fabric, while acting as spacer mesh to permit liquid flow — flux — to the module's center core. Volume is large, growing in excess of ten percent each year. Users include Midland, Mich.-based The Dow Chemical Co., Wilmington, Mass.-based Koch Membrane Systems Inc. and Hydranautics, Oceanside, Calif.
Market Trends
All forms of filtration media typically are growing at a 2 to 5 percent compound annual growth rate above the GDP in many developed countries. Legislative mandates, mentioned earlier, account for a good share of this growth. Expanding use of new technologies — such as nanofibers in dust collection cartridges and engine air-intake filters, as well as tricot spacer fabrics featuring bicomponent yarns used in RO/UF spiral-wrapped modules — also contribute to the growth of the segment. There are plenty of unmet industry needs including the desire for more extended life media filters and improved fiber distribution in nonwovens to name just two needs. At the end of the day, as was stated in a recent American Filtration & Separations Society "Point of View" document, "There is hardly a pollution, contamination, or environmental problem that cannot be prevented or remediated through the use of filtration and separations technologies."
Noteworthy industry characteristics:
There are approximately 20 major filtration market segments using many types of air/liquid filtration media, including aerospace, transportation — automotive, trucking and off-the-road vehicle filters — chemical processing, food and beverage, laboratory, which is larger than most industry people realize, medical, pharmaceutical, semiconductor, polymer filtration, oil and gas, power generation and other markets.
Filtration is still largely a razor blade market with lots of single use filters, but there's an emerging trend toward reusable and extended life media filters, as well as enclosed systems with reusable or in-situ cleanable media to change the paradigm.
Media supplied in liquid filtration applications offer more niches and opportunities for arguably higher profitability than air filtration, although the volume of textile and nonwoven fabric media used in air filtration — for example, HVAC — overall is at least twice the volume of liquid filtration media.
Product cycles last many years and often decades, even though the industry is always willing to embrace competitive new media constructions which disrupt existing technology.
There is considerable upstream product development with customers. To maximize growth, media companies develop close relationships with filter/system producers.
The industry welcomes innovative ideas, polymers and filtration media to meet ever increasing needs in the market segments. For example, textile and nonwoven filtration media possessing a narrower pore-size distribution, higher flow rates and/or greater dirt-holding capacity than incumbent constructions are always sure bets to gain customer attention.
---
Editor's note: Ed Gregor is owner of Edward C. Gregor & Associates LLC and can be reached at 803-431-7427 or ecg@egregor.com
---
January/February/March 2017