For 3-D wovens, knits and even nonwovens, the list of markets and applications only continues to grow and expand.
By Jim Kaufmann, Contributing Editor
Depth is indeed the difference. Length, width and depth — or thickness if you prefer — account for the three dimensions inherent to a human's visual perspective. Fortunately, this also happens to be the distinguishing traits of 3-D textiles, a category growing in significance throughout the textile industry and beyond. The specific recognition of depth is what separates 3-D textiles from traditional 2-D knit, woven and nonwoven fabrics. Granted, it can be argued that everything, yes, everything has a length, width and depth. But since traditional woven, knit and nonwoven fabrics have a very nominal depth when compared to their manufactured length and width, the third dimension is often deemed as irrelevant or inconsequential, therefore, 2-D. Increasingly over the past 20 years or so, the addition of depth in textiles has become more relevant to engineers and designers. The result has been significant growth in the use of 3-D textiles, particularly by the composites industry and more recently in other technical applications, as well as the fully-fashioned or shaped garments marketplace.
To clarify, along with their length and width, 3-D fabrics have a very distinct, clearly defined depth and/or noticeable shape, each of which are visually apparent and measurable. However, in true 3-D fabrics, it is understood that the depth must be fully integrated throughout the textile structure via its design, engineering and manufacturing processes, whether it be a woven, knit or nonwoven structure. Given this definition, 3-D fabric depth does not result from add-ons or multiple layers being sewn, glued or otherwise assembled together after the base fabric has been made.
Truth be told, 3-D textiles or 3-D fabrics have conceptually been around for a very long time, however for the most part, just not recognized as such. As is usually the case given the breadth of textile manufacturing processes, there are a multitude of ways to produce 3-D textiles. Each process offers an inherent list of attributes similar in scope to its traditional 2-D brethren. In general, 3-D knits provide stretch and conformability, 3-D wovens deliver stability and uniformity and 3-D nonwovens offer bulk and tailored density. When jacquard systems are incorporated into either woven or knit fabric manufacturing equipment, individual yarn control and placement are greatly enhanced. As a result, intricately complex woven or knit shapes, patterns and geometries can be realized.
Adding a pronounced third dimension to the textile structure with individual yarn path control that is fully integrated throughout, further diminishes the limits of textile technology and directly leads to enhanced and improved product performance. These enhanced products can range from rather intricate fully-fashioned one-piece garments, to complex near net shape composite preforms, and pretty much anything else the engineer or designer can imagine. Having more yarn systems in play through the thickness or "Z" direction allows the designer to create a complex engineered structure, target and mitigate weak or high-stress areas, enhance flexibility and/or provide foundational support, among other design features. The possibilities may not be endless, but quite a few application engineers and designers representing a wide array of industries and market segments are taking notice of and exploring the potential opportunities that 3-D textiles offer.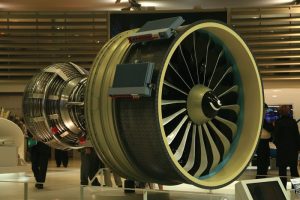 3-D Possibilities
In many cases, weight savings are the principal driver for the rising interest in 3-D textiles. The aerospace, military and automotive industries, where any reduction in weight translates directly to improved fuel savings and increased performance, are leading the charge, but these industries are not alone. Various other industrial and technical
applications are employing 3-D textiles as well. Numerous rigid and structural composite products based on 3-D weaving technology have demonstrated significant weight savings over incumbent products mostly made from metals, with equivalent or better performance results. One product where 3-D structures are used to reduce weight is the new LEAP jet engine family developed and manufactured by CFM Corp. — a joint venture between France-based Safran and Fairfield, Conn.-based General Electric. CFM incorporates
3-D woven carbon fiber composite fan blades and other components into the engine assembly delivering fuel efficiency increases approaching 15 percent.
3-D Wovens
Aided by the growing acceptance of 3-D textiles and composites in high-visibility and high-performance applications, a trickle down effect has been created driving the use of 3-D textiles into a broad array of application areas as well. Increased recognition along with a growing knowledge and usage database for 3-D textiles also is fostering overall confidence in the technology's usage, leading to greater acceptance and growth. Densely woven 3-D fabrics are ideally suited for composite applications where they continue to gain in popularity and the design and engineering possibilities can be fully realized. The ability to control fiber placement using 3-D weaving techniques allows for the creation of different cross-sectional shapes including "T", "L", "F", "+" and fully integrated near net-shape structural preforms also can be realized. Near net shape preform structures, different cross-sectional shapes and woven billets exceeding 5 inches — 125 millimeters — in thickness can be produced.
If weight savings is the primary driving factor for development of 3-D textiles, enhanced performance is certainly a close second, if not the leading driver in numerous other applications. Engineers and designers now view 3-D textiles as a tool to address complex challenges and look to benefit from the design and performance attributes the technology provides. Aiding in this growth and acceptance are greatly improved design and engineering tools that generate a better understanding of how 3-D textiles can be applied to enhance performance. This, coupled with 3-D textiles' innate ability to allow for individual or directed fiber placement and tailored fiber paths that mitigate stress/strain concerns, creates more opportunities to address potentially complex performance challenges. Add it all up and the result is a fully integrated 3-D fabric structure that can improve damage tolerance, resistance to deformation and delamination, while saving weight. Adding in a mentality shift that incorporates the sum of all parts rather than just individual components can lead to results that not only improve performance, but garner cost efficiencies and reduce implementation time as well.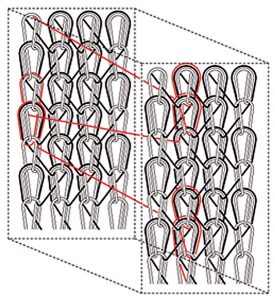 3-D Knits
Not to be outdone, 3-D knitting, created by either warp or weft knit methodologies, offers incredible design and engineering versatility. While some 3-D knit applications may involve rigid composites, the majority of uses are in soft goods. In general, warp knitting typically creates a more physically stable fabric than weft knitting, but the interlocked loops in both techniques create a natural softness, bulk and conformability in the fabric. As such, while 3-D wovens tend to be rather dense and non-pliable, 3-D knits exhibit inherent pliability, flexibility and elasticity. Multi-directional stretch and recovery, depth, density and weight can all be designed into or engineered out of the 3-D knit fabric. Not to mention that for some designs, one pattern construction may be on the front face fabric while a completely different configuration may be on the back. Curves, contours, pockets, and other configurations can be incorporated into fully-fashioned whole garments. Texture, density and thickness can be added or removed, and near net-shape forms can be created. Each may integrate several component cross sections as well as multiple tailored yarn systems fully engineered throughout the shaped preform and resultant product to maximize high-performance efficiencies. Options galore can be realized depending on the application and the creativity of the designer and engineer.
The structural integrity found in knit spacer fabrics, which can exceed 2 inches — 50 millimeters — in thickness and some 3-D nonwoven configurations aid in the filling and stabilization of void areas for specific applications while offering the creation of void areas to improve air flow in seating and mattress pads or fluid flow in others. More comfortable and breathable form fitted and seamless compression garments for medical applications can be realized through 3-D knitting. Form fitting also can be rather desirable in many fashion applications. The bulk provided by several 3-D textiles formats can also improve insulation and acoustic properties for a number of different applications.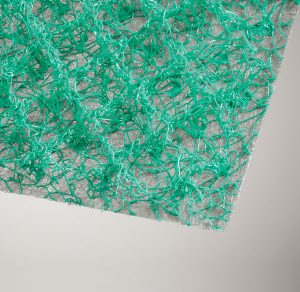 Nonwovens In 3-D
3-D nonwovens can be manufactured via several different methods depending on needs of the application. Denser products such as traditional felts, insulation pads and composite brake rotors are produced using needle-punching techniques. Various insulations and other nonwoven products such as Enkamat® manufactured by Bonar — a Low & Bonar Plc company — are used for creating bulk or air flow and can be produced via melt spun, air-laid or additive manufacturing technologies.
Additive manufacturing, more commonly known as 3-D printing, may not technically be a textile manufacturing process, but that can be argued elsewhere. From a purely 3-D technology perspective, its inherent ability to precisely place polymer in any location or to any depth to create fully integrated 3-D structures does create a host of interesting possibilities. It does have some detractors, but 3-D printing is still in its infancy. Given a broadening pallet of polymeric materials, some with fiber inclusions, to choose from; and continuing efforts to improve equipment and processing capabilities, 3-D printing should not be taken for granted.
For 3-D textiles, the list of markets and applications only continues to grow and expand. As the design and engineering benefits continue to broaden, new and innovative applications will only continue to promote its greater acceptance. The difference is indeed depth… And then some!
July/August/September 2016