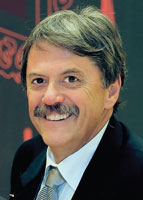 By Jürg Rupp, Executive Editor
T
he 17th Shanghaitex was held recently at the Shanghai New International Expo Center (See "Shanghaitex: Transformation And Upgrade," TW Asia, this issue). Around that time, economic problems in China started to materialize. Today, economic news from the Middle Kingdom feels like a rollercoaster and is provoking mixed emotions around the globe.
However, an exhibitor survey conducted by TW Asia revealed questioned textile machinery manufacturers were happy with the outcome of Shanghaitex. Some 90 percent of the show visitors were from China, but visitors also traveled from India, Pakistan and Bangladesh.
Total visitor numbers weren't huge, but exhibitors reported the quality of the visitors was better than expected.
Cem Yalcin, head of sales, Switzerland-based Saurer Ltd., noted that segments are shifting because technical and quality requirements for products are rising. High-end won't be high-end anymore — it's moving closer to the middle range and the future high-end products will be a niche market. Markets are getting more aggressive and the mid-range will grow.
Despite clouds over China's shrinking economy, Asia in general, and China in particular, are still the most important markets for the global textile machinery industry. The interviewed manufacturers judged the importance of Asia up between 70 and 75 percent, with 10 to 15 percent for Europe. However, some other Asian countries such as India, Indonesia, and particularly Vietnam as one of the most promising markets, are moving forward.
Currently, the changing market environment in China in relation to labor and energy costs influences the Chinese market heavily. Some Chinese manufacturers already have reacted to the new conditions by investing heavily in foreign countries to get cheaper labor costs and to stay competitive on the global market. Also, the fiber market is changing. China is by far the largest man-made fiber producer in the world, and manufacturers continue to add new capacity. On the other hand, there is still million of tons of cotton in stock, which will probably provoke another volatile market climate in the cotton business.
The upcoming ITMA 2015 will be held November 12-19, 2015, at Fiera Milano Rho in Milan, Italy. At Shanghaitex, none of the important exhibitors presented any new machinery or products because they all are waiting for ITMA to make a splash. It will be interesting to see how many Chinese or Asian entrepreneurs come to Milan. Questions about the changing market environment in China most likely will be answered.
Fall 2015