Yiwu, a city with approximately 1.2 million residents, is located in Zhejiang Province in eastern China south of Shanghai. It is known as a regional tourist destination, as well as for small commodity trade and vibrant free markets. Here, the Yiwu International Expo Centre is busy preparing for the China (Zhejiang) International Exhibition on Textile Machinery (ZhejiangTex 2014), a collection of textile trade shows including: The 15th China Yiwu International Exhibition on Knitting & Hosiery Machinery (Yiwu Knitting); The 4th China Yiwu International Exhibition on Sewing & Automatic Garment Machinery (Yiwu Sewing); and the 2014 China Yiwu International Exhibition on Dyeing, Finishing & Digital Printing Machinery. The combined exhibitions, which will run concurrently with the China Yiwu International Manufacturing Equipment Expo, will take place Nov. 19-22, 2014.
ZhejiangTex is organized by Hong Kong-based Adsale Exhibition Services Ltd. along with Zhejiang Province Economic and Information Commission, The Department of Commerce of Zhejiang Province, Science and Technology Department of Zhejiang Province, the Yiwu Municipal People's Government, and Municipalities People's Government. The show is sponsored by the Zhejiang Provincial Government and is supported by The China Chamber of International Commerce Yiwu Chamber of Commerce; Yiwu City Hosiery Industry Association; Yiwu City Braiding Industry Association; Yiwu City Seamless Knitting Association; Yiwu City Zipper Industry Association; Yiwu City Garment Industry Association; Yiwu Glove Industry Association; and the Pujiang County Knitting, Printing and Dyeing Industry Association.
The concurrent China Yiwu International Manufacturing Equipment Expo is organized by the Zhejiang Provincial Government.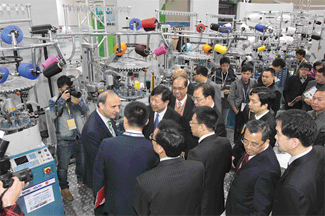 A representative of Lonati S.p.A. (left) shows his company's circular knitting machinery to Chinese officials visiting the 2013 edition of Yiwu International Exhibition on Knitting and Hosiery Machin ery.
Event Scale And Scope
Organizers predict approximately 200 exhibitors will showcase technology in 15,000 square meters of exhibition space. It is projected that companies from 11 countries and regions will participate, including machinery manufacturers and suppliers from China, Hong Kong, Taiwan, Germany, Italy, Japan, Korea, Switzerland, Thailand and Turkey.
Speaking about the 2013 edition of the show, Tiziano Sandonini, marketing director, Santoni (Shanghai) Knitting Machinery Co. Ltd., said: "[The] seamless knitting market is growing rapidly. Some of the Zhejiang Province manufacturers have entered the seamless knitting field due to the flexibility on knitting design and application. The exhibition provided a platform to showcase the latest seamless knitting machinery and we are satisfied with the overall result of the exhibition!"
In 2014, more than 12,000 visitors are expected to attend the shows. At the last event, held in 2013, the majority of visitors came from Yiwu or Zhejiang province, with only 5.1 percent of visitors coming from outside China. There are 10 major clusters of textile manufacturing specialties in Zhejiang Province, and according to event producers, these clusters have indicated high purchasing needs. The clusters include China's knitwear production base in Yiwu City, warp knitting production base in Haining City, casual clothing production base in Yuequing City, export garment manufacturing production base in Pinghu City, men's clothing production base in Ruian City, necktie production base in Shengzhou City, fabric production base in Hangzhou City, plush production base in Cixi City, quilted textile production base in Pujiang County and filter fabric production base in Tiantai County.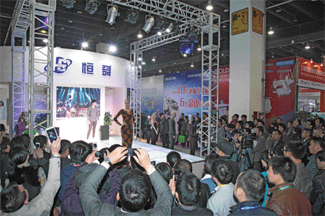 This fashion show at the 2013 Yiwu exhibitions was a popular attraction.
According to show organizers, between January and November of 2013, knitted garment production reached 1.86 billion units in Zhejiang Province, accounting for 15.8 percent of the total national output. The province exports goods to the United States, Europe and Asia including some 30 countries and regions.
Yiwu Knitting will focus on seamless underwear machinery; knitting and hosiery machinery; flat and warp knitting machinery; yarn winding, covering and twisting machinery; and yarns, fibers, lace and spare parts for the knitting industry.
Yiwu Sewing's focus is on cutting, laser and CAD/CAM systems; sewing machines and accessories; post-sewing, ironing and transportation equipment; needlepoint, embroidery and quilting equipment; and braiding and zipper making machinery.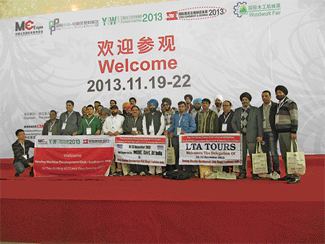 Below: The Sewing Machine Development Club of Ludhiana, India, was one of a number of buyer delegations attending the 2013 Yiwu exhibitions.
New In 2014
Realizing the growing demand and market needs for digital printing technology, event organizers have added China Yiwu International Exhibition on Dyeing, Finishing & Digital Printing Machinery for 2014. According to organizers, forecasts indicate global production of printed textiles will reach 32 billion square meters by the year 2015. In addition, 15 percent of global fabric printing will be produced using digital techniques within the next five years.
This section of the event will feature dyeing machinery and apparatus; finishing and boarding machinery; screen and transfer printing machinery; digital printing machinery; and logo printing machinery.
Concurrent Events
Visitors will be able to view displays geared to the themes of the shows as well as participate in trend forums. The Textile Technology Display Zones will include a Fashion Extravaganza featuring garments from fashion designers from China, Hong Kong and Taiwan; and a Knitting Collections Wardrobe will highlight knitwear produced using top technology from well-known knitting technology manufacturers.
Five trend forums will cover a variety of topics on garment manufacturing, trend forecasting and design. Topics include: 2015-2016 Intimate Wear Design & Trend Forecasting Conference; 2015 Functional Sportswear Development Trends & Application; Automatic Garment Production Management & Technical Forum; Sustainable Development on Textile Industry; and Latest Development Trends on Green Printing & Dyeing Technology.
Attending The Show
Vistors may preregister online to attend ZhejiangTex 2014. Online registration will reduce waiting times upon arrival at the Yiwu International Expo Centre, and is encouraged by event organizers. Once the online registration form has been submitted, attendees receive a confirmation letter via email. Attendees then present the preregistration letter and two business cards to collect their visitor badges at the expo center.
Exhibitors and visitors alike are looking forward to the 2014 event. "Yiwu Knitting is recognized as an influential exhibition in knitting and hosiery industry," said Dr. Raymond Chu Lop Fu, chairman, Chemtax Industrial Co. Ltd. "We participate every year to showcase the most advanced textile machinery to seize the opportunities. We hope the exhibition will be stronger, bigger and more professional."
Visitor Huang Xia, vice president, Northeast Hosiery Industrial Park, said: "We receive phone call invitation from exhibitors and exhibition organizers very year, and we visit every edition. The exhibitions are very professional and have provided very good opportunities for enterprises to meet more exhibitors and old friends!"
July/August/September 2014