Nanofibers traditionally have been made using one of two methods: electrospinning or meltblowing. Both methods produce dry, filament nanofibers, and different iterations of those methods have been developed over the years, with those developments generally overseen by experts in the textile field.
Recently, another, very different method has come out of the chemical engineering field, almost as if by a fluke, and this new method produces staple fibers, which open up possibilities for a wide range of new end-use applications. XanoShear™ technology, developed at North Carolina State University (NCSU), was licensed in 2010 to Xanofi Inc., a United States-based startup established to commercialize the technology, which offers production at a considerably faster rate than electrospinning and can be scaled up easily by adding components to the machine.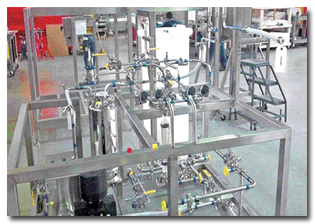 The XanoShear™ machine's flexibility to offer different diameters or pipe configurations, additional tanks, or other features enables processing of various volumes and fibers according to specifications.
Something In The Liquid
In the early 2000s, as Orlin Velev, Ph.D., then an assistant professor of chemical engineering and currently Invista Professor, Department of Chemical and Biomolecular Engineering, NCSU, was working in his chemistry lab making polymeric microrods using a colloid shear process, he noticed that some of the rods appeared to be getting stretched much further and much more finely, forming nanofibers in the liquid. With his curiosity piqued, he began to play with shear and some chemical mechanisms to precipitate polymers out of their solvents. Several colleagues including Stoyan Smoukov, Ph.D.; Sumit Gangwal, Ph.D.; Pete Geisen; and others — with backgrounds primarily in chemical engineering and biotechnology — also became involved, and through NCSU's graduate-level Technology Entrepreneurship and Commercialization course, with advice from Executive-in-Residence Miles C. Wright, they developed a business plan and formed Xanofi.
Velev, Smoukov and Geisen are now involved in technology and product development at Xanofi; and Wright serves as Xanofi's CEO. Wright spoke to Textile World about the XanoShear technology and the company that is bringing products to market using that technology.
"Our core technology uses a solvent/antisolvent combination that forces a soluble polymer to phase separate back into a solid," Wright said. "At the same time, shear within the liquid is being exerted, so that as it goes from liquid to solid, there's a stretching motion." He added that through experimentation with that process, it became possible to better control the shape of the microrods and reduce them to fibers.
Wright said the staple nanofibers produced offer several advantages. Whereas electrospun filament fibers primarily are coated onto the surface of a substrate, XanoShear staple fibers can be distributed in a liquid and sprayed or wetlaid to make a 2-D or 3-D substrate, thereby creating materials that can't be made using continuous fiber.
"Our applications range from 3-D cell culturing to protein additives for food, affinity or ion exchange chromatography, liquid or air filtration, and numerous others," Wright said. "What we do doesn't replace electrospinning or meltblowing. We're going into applications and developing ways of producing products with a completely different advanced material, and we're looking at those markets and applications that are enabled by our material, not the same ones that are served by electrospun or meltblown materials. It's pretty easy for us to include our fibers in a slurry tank and have it 3-D-integrated into a wetlaid substrate. You can't really do that with a continuous fiber."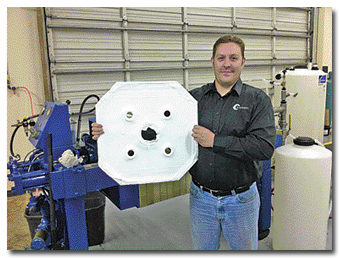 Dan Morton, process engineer at Xanofi, holds up a typical pressed mat of solid nanofibers.
The Machine: A Tale Of Bootstrap American Ingenuity
The machine concept for the XanoShear technology is relatively simple. "We started with a test tube technology," Wright said. "Originally, we thought our commercial machine would look like a giant washing machine, basically like a test tube except a much bigger version. The problem with that concept is that it's more of a batch process, and we wanted to move toward a more continuous process. We probably mapped out 12 or 13 different ways to create shear within a continuous flow of the liquid.
"As we started thinking about ways to do this, Pete [Geisen] came in one day with a yard sprayer. He messed with it and that morning he started producing nanofibers. Then we started thinking, 'We need more power and volume — beer keg!' So we quickly secured a keg and started producing nanofibers that day. That actually became a pretty good system that we still use as a quick and dirty testing platform," Wright continued.
"Then we built a pilot machine, and we still use that basic concept. It's just a functional machine, and we have a lot of room to engineer it to do a lot of different things — in terms both of volume and of fiber produced — by changing diameters, pipe configurations and such. There are a lot of knobs we can turn to produce different materials. It's a pretty robust platform for doing different things."
Xanofi is also developing a hardware-material system, dubbed XanoSpray, that will spray staple nanofibers onto roll goods. That project has received funding from the National Science Foundation.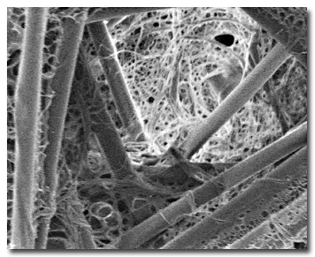 A scanning electron micrograph of XanoMATRIX™ material shows the substrate's chaotic architecture and high use of discrete fibers.
Business Model: Going Partners
Rather than sell machines or nanofiber to downstream producers, Xanofi has decided to partner with companies that would market products that it makes itself.
"We get a lot of requests to sell machines, but we don't want to be an equipment manufacturer," Wright explained. "And we get a lot of requests just to sell bulk fiber at commodity prices, but we do not want to be the Walmart of nanofibers — that takes a huge amount of infrastructure and cost. We want to develop products and find new uses for our advanced material. We're unique in the fact that we own a platform. We might get something 80-, 90-, or 98-percent to an end product, but at the end of the day, we'll partner with a company that will take it to market."
First XanoShear Products
Although Xanofi primarily aims to partner with other companies to develop and offer end products, its first product, a XanoMATRIX™ 3-D cell scaffold, has taken a slightly different path. The company teamed with the University of North Carolina, University College London and Cambridge University to develop the scaffolds. As company literature describes it, "Unlike other technologies, the chaotic architecture of our substrates and the high use of discrete fibers allows cells to easily migrate and propagate, reshaping the scaffold with more rubust nutrient gradients."
"We'll produce the scaffold, and cells will grow on that," Wright said. "We will have 48- and 96-well plate versions, and we're selling those well plates for the 3-D cell scaffold. We don't have a partner for that — we wanted to get to a commercial product and then find a partner." XanoMatrix will be released in February 2014.
In another project, Xanofi is developing an additive that will improve the hydrophobicity of C6 fluorochemistry.
"The shorter C6 chain has less breakoff and is better for the environment than C8 chemistry, but C6 chemistries lose about 30 percent of their hydrophobicity, so they don't work as well as C8 in that area," Wright said. "Through chemical modification, people are getting back to 80-percent hydrophobicity. If we build a simple additive for these C6 chemistries, we can get it back to about 95-percent efficacy quite inexpensively."
Other products are under development also, including one involving corn proteins for food products and a second life science product involving affinity chromatography. Xanofi is partnering with several companies worldwide to bring a range of products to market.
January/February/March 2014