BÖNNIGHEIM, Germany — August 14, 2015 — Happy Co. Ltd. has developed a wet cleaning system for outerwear, which cleans customers' textiles professionally without having to process them conventionally, using organic solvents (dry-cleaning). The methods as well as devices of the "gravity-free balance wet cleaning system" have obtained several patents not only in Japan but in European and other countries.
Cleaning with water is defined as a cleaning procedure in EN ISO 3175-4:2003 standard and is common practice in many facilities. EN ISO 3758 allows garment manufacturers to label their products with care instructions that include wet cleaning technology.
The use of water-based cleaning processes in professional textile care helps to decrease the use of organic solvents and thus reduces the environmental impact caused by the emissions associated with the process.
Until now, wet cleaning technology was, unfortunately, only usable for textiles suitable to be washed in water. The majority of such textiles are labeled with the "washing tub" care symbol. © GINETEX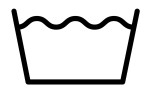 The wet cleaning care symbol is less commonly used. © GINETEX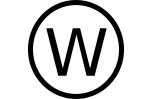 This cleaning system aims to allow wet cleaning of outerwear that according to its care label should only be dry-cleaned using organic solvents, without any negative effects or even damage to the garment. The main usual negative effects or damage caused by wet cleaning processes are dimensional changes of textiles – changes which often make further use of the garment impossible for the owner.
Experts of the Hohenstein Institute (Bönnigheim/Germany) evaluated more than 1,000 different garments in a wide range of material composition labeled as "cleanable in organic solvents only". The results did not show any undue deviation of the original dimensions as documented upon receipt of the garments before they were returned to the customer.
Therefore, the requested dimensional stability of the newly developed wet cleaning system was successfully approved by the Hohenstein experts.
Posted August 19, 2015
Source: Hohenstein Institute