ShanghaiTex 2015, the 17th International Exhibition on Textile Industry, will be held at the Shanghai New International Expo Center (SNIEC) in Shanghai, June 15-18. Show organizers — Adsale Exhibition Services Ltd., Shanghai Textile Technology Service & Exhibition Center and Shanghai International Exhibition Co. Ltd. — "aim to feature the latest development of textile technology in multiple sectors and markets to help enterprises reduce cost, improve efficiency and increase competitiveness in the current industrial reshuffling period."
ShanghaiTex was established in 1984 as a biennial textile event. The most recent event, held in 2013, attracted 53,183 global visitors from 79 countries and regions. The exhibition area of 103,500 square meters (m2) showcased the products and services of more than 1,000 companies from 25 countries and regions including four international pavilions — from Italy, Germany, Korea and Taiwan. Organizers anticipate a similar level of exhibitor participation in 2015 with as many as 60,000 visitors.
The show is sponsored by ShangTex Holding Co. Ltd., China Council for the Promotion of International Trade Shanghai Sub-council and China Chamber of International Commerce Shanghai Chamber of Commerce.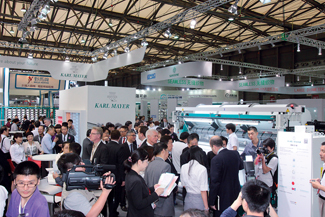 The last ShanghaiTex event attracted more than 53,000 visitors.
Specialized Theme Zones
ShanghaiTex features seven theme zones in nine exhibition halls covering an exhibition area of more than 100,000 m2. The seven zones are:
Knitting & Hosiery Machinery — Halls W1 and W2;
Weaving Machinery — Hall E4;
Digital Printing Machinery — Hall W5;
Printing, Dyeing & Finishing Machinery & Textile Chemicals — Halls W3 and W4;
Spinning & Techtextile Machinery — Halls E1 and E2;
Spare Parts and Accessories for Textile Machinery — Hall E3; and
New Materials, Technology & Designs for Knitting Products — Halls W1 and W2.
Organizers report the Digital Printing Machinery zone has been expanded for 2015 to meet the needs of this growing segment of the industry. Digital printing has witnessed significant growth in recent years, and its advantages for environmentally friendly production, small-batch production and product customization options are only likely to fuel more growth in the coming years. According to England-based Smithers Pira, a market intelligence and testing services company, digital printing output is expected to reach 10 percent of total textile printing output between 2014 and 2015.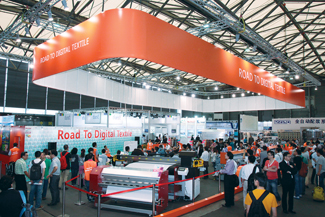 In 2015, ShanghaiTex will expand its Digital Printing Machinery zone.
Concurrent Activities
ShanghaiTex will highlight new products and technology releases, as well as offer visitors the chance to participate in technical seminars and networking events. Some of the events include a Sports Boutique hosted by Italy-based Santoni S.p.A., a Knitted Sports Shoes Academy hosted by China-based Ningbo Cixing Co. Ltd., and the Digital Print Arena.
The 2015 New Textile Wastewater Treatment Technology Forum will present the latest trends and applications in water treatment technologies and will explore eco-friendly denim solutions. According to ShanghaiTex organizers, jeans production discharges 420 million tons of polluted water in China, which is a problem that must be tackled.
New in 2015 organizers have worked with the Shanghai University of Engineering Science to create the Fashion•Passion•Innovation Digital Textile Design Contest. Premium exhibitors will sponsor advanced digital printing equipment for the contest, which will bring young fashion designers' work to life.
Visiting The Show
In 2011, ShanghaiTex introduced the International Group Delegation Programme to meet the overseas demand from customers interested in Chinese textile machinery. Companies or associations with 10 or more people attending the show are encouraged to form buyers' groups, which entitles them to a set of services including express registration at the group delegation counter, free use of the visitors lounge, a networking program, travel packages and connections with potential business partners. Some 20 delegations from China, as well as many more from abroad, took advantage of the delegation program in 2013.
ShanghaiTex admission is free, and visitors may preregister online or register on-site during the show. As of Textile World's press time, opening hours are still to be announced.
For more information about ShanghaiTex 2015, visit shanghaitexonline.com.
March 2015