Karl Mayer Textilmaschinenfabrik GmbH, Germany, has upgraded its RD 6/1-12 and RD 7/2-12 (EL) warp-knit spacer fabric machines used to produce 3-D upholstery fabric and textiles for shoes. Changes include individual needle mounting to facilitate needle changes, and chromium-plated guide elements to protect the yarn sleys from high loads when processing monofilaments in the pile bars.
On the RD 7/2-12 (EL), Karl Mayer has reconfigured the warp beam frame to make it more compact and has modified the machine to simplify pattern changes when using pattern chains.
The company has added to the RD 6/1-12 an optional package for processing multifilament yarns. This package includes special 1 in/1 out guide needles for pile bars GB 3 and GB 4. An accessories kit offers yarn sleys for the pile bars, which allows multifilament yarns to be processed provided the type of yarn and stitch density is considered and meets certain requirements for a machine gauge of E 22.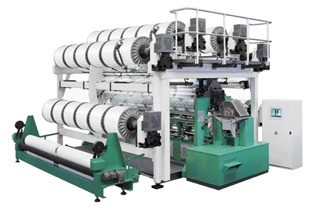 Karl Mayer's RD 7/2-12 (EL) double bar raschel machine
January/February/March 2014