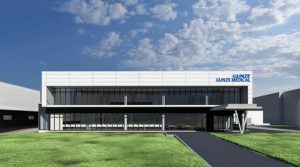 OSAKA, Japan — (October 16, 2023) — Gunze Limited (Headquarters: Osaka, Japan, President: Toshiyasu Saguchi) is pleased to announce that Gunze has decided to invest in the construction of the third medical plant and to expand its R&D laboratory in Ayabe, Kyoto, where Gunze was founded.
Targeted to complete in February 2025, the new plant aims to increase production of "TENALEAF™", an absorbable adhesive barrier sheet used in surgery, for which demand is growing, and to secure the efficient production system. The investment will accelerate the growth of the medical business. The first Ayabe Medical Plant began operations in 1998. As the business grew, the second plant was established in 2016. The expansion of the first plant is underway and will be completed in March 2025. The investment in medical facilities has reached 3.5 billion yen.
The main purposes of expanding the medical R&D facility are to strengthen the development capabilities of next-generation products and efficient mass production and to make the working environment more efficient, comfortable, and creative by setting up an open office for technical personnels where they can interact with others more freely and closely.
The new third plant will achieve an environmental performance rating of B+ or higher under the Comprehensive Assessment System for Built Environment Efficiency (*CASBEE) certification as striving to reduce CO2 emissions through the use of high-efficiency air conditioning and solar power generation.
Gunze promotes company-wide activities to reduce the environmental impact of its business activities, strive for environmentally friendly management, and contribute to the development of the local community by revitalizing the economy and creating new employment opportunities in Kyoto.
*CASBEE is a method for evaluating and rating the environmental performance of buildings and the built environment. CASBEE was developed by a research committee established in 2001 through the collaboration of academia, industry and national and local governments, which established the Japan Sustainable Building Consortium under the auspice of the Ministry of Land, Infrastructure, Transport and Tourism in Japan.
(Source: Institute for Built Environment and Carbon Neutral for SDGs)
Gunze and its Medical business
Gunze, founded in Kyoto in 1896, is a leading developer and manufacturer of medical devices, plastic films, engineering plastics, and apparel. Gunze employs more than 5,200 people in 10 countries worldwide.
The medical business has had a substantial footprint in over 35 countries since its establishing in 1985. The head office and manufacturing facilities are located in Kyoto and has subsidiaries in the U.S., EU, China, and Osaka, Japan. By applying innovative fiber and polymer processing technologies, Gunze manufactures a comprehensive range of medical products focused on bioabsorbable and biocompatible materials such as skin substitutes, tissue reinforcement felts, bone fixation devices, dural substitutes, and suture threads. Gunze's mission is to advance the quality of life of patients by providing innovative solutions.
Posted: October 17, 2023
Source: Gunze Limited