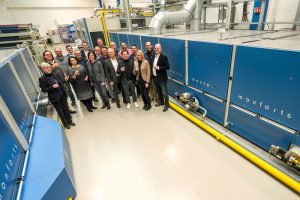 MÖNCHENGLADBACH, Germany — April 24, 2023 — At ITMA 2023 in Milan from June 8-14 this year, Monforts is organizing two free-to-attend seminars and discussions on the potential of green hydrogen as a new energy source for textile finishing, drying and related processes.
The seminars will take place at the company's stand B106 in Hall 18 on Friday June 9 at 11 a.m., and Monday June 12, also at 11 a.m., and all are welcome.
Monforts is currently leading a consortium of industrial partners and universities in the three-year WasserSTOFF project, launched in November 2022, that is exploring all aspects of this exciting and fast-rising new industrial energy option.
The target of the government-funded project is to establish to what extent hydrogen can be used in the future as an alternative heating source for textile finishing processes. This will first involve tests on laboratory equipment together with associated partners and the results will then be transferred to a tenter frame at the Monforts Advanced Technology Center (ATC).
"Everybody knows that textile finishing is a high energy consuming process," said Monforts Managing Director Gunnar Meyer."To make this process more efficient, Monforts already offers several solutions, but as a technology leader we are also rising to the challenge of exploring alternative heating options to be ready for the future."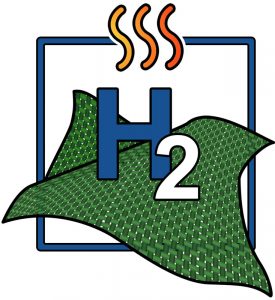 Purity
To be considered "green", hydrogen must be produced using a zero-carbon process that is powered by renewable energy sources such as wind or solar. Currently, the cleanest method of hydrogen production is electrolysis, using an electrically-powered electrolyzer to separate water molecules into hydrogen and oxygen. The purity of the hydrogen is also important, and impurities must be removed via a separation process.
"Despite all its advantages, there are obstacles to overcome on the way to widespread, economically-feasible green hydrogen use," explained Monforts Textile Technologies Engineer Jonas Beisel. "Until there are widely available, reliable and economical sources of this clean power, the cost of producing it will remain prohibitive. The infrastructure is not yet there, and hydrogen also has a tendency to make steel brittle and subject to fracture, which is something that requires further investigation in both its transportation and use in industrial processing.
"Green energy's potential as a clean fuel source is tremendous, but there is much we need to explore when considering its use in the textile finishing processes carried out globally on our industry-leading Montex tenter dryers and other machines."
At its Advanced Technology Center (ATC) in Mönchengladbach, Monforts will be carrying out intensive tests and trials to assess the reliability of both processes and final products when different natural gas and hydrogen mixtures — up to 100 percent green hydrogen — are employed. The results will be closely analyzed by the consortium partners because there are many parameters that at this stage remain unknown.
The aim, Beisel added, is to both reduce CO2 emissions and — following the rising prices and industry turbulence experienced by manufacturers over the past year or so — to further reduce a dependency on natural gas.
The three-year WasserSTOFF project is sponsored by Germany's Federal Ministry for Economic Affairs and Climate Action, and with Monforts at the helm brings together industrial partners Pleva and NTB Nova Textil, with academic input from the Hochschule Niederrhein and the Technical University of Freiberg.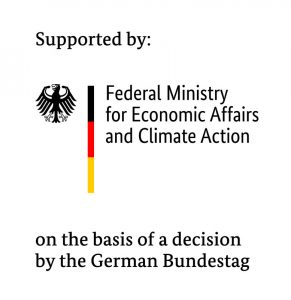 Invitation
"Do come and visit us during ITMA, to discuss not just hydrogen, but all options for reducing the costs of energy, as well as water and finishing chemicals usage," said Monforts marketing manager Nicole Croonenbroek. "The current focus of the industry is very much on cleaner processes to meet the commitments on sustainability made by the major fashion brands and we have developed many useful solutions for helping our customers meet new market demands since the last ITMA in 2019, which we're looking forward to discussing with you."
Posted: May 2, 2023
Source: A. Monforts Textilmaschinen GmbH & Co. KG