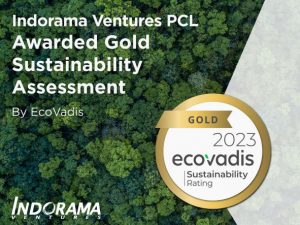 BANGKOK, Thailand — February 20, 2023 — Indorama Ventures Public Co. Ltd. (IVL), a global sustainable chemical company, has been awarded the 'Gold Medal' by EcoVadis, recognizing IVL's commitment to sustainability in supply chain management.
IVL participates in the annual EcoVadis assessment to evaluate the company's sustainable practices and ensure it can meet key customers' requirements across the different business segments and operations. In 2023, the company achieved the Gold Medal with a score of 77; higher than 2022's score of 75. IVL ranked in the 99th percentile in basic chemical, fertilizers, and nitrogen compound plastics and synthetic rubbers in primary industries of all assessed companies worldwide, with above industry-average performances in all four assessment areas, including environment, labor & human rights, ethics, and sustainable procurement.
Yash Lohia, chairman of the ESG Council at Indorama Ventures, said: "Sustainability has been embedded in every aspect of Indorama Ventures for over a decade to align with our vision of being a world-class sustainable chemical company making great products for society. We are delighted to receive some of the highest levels of recognition from EcoVadis over the past six years. This achievement demonstrates our operational efficiency and value chain management through continuous improvement to meet customer needs and global challenges."
EcoVadis is a provider of business sustainability ratings. The assessment indices include more than 200 purchasing categories and 175 countries around the world.
Posted: February 20, 2023
Source: Indorama Ventures Public Company Limited (IVL)