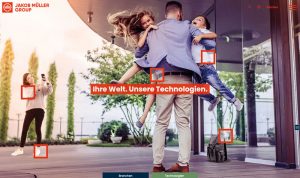 FRICK, Switzerland — May 18, 2021 — In the textile industry, it might well be a unique idea. One of the world's leading machinery suppliers has just launched its new website — in which the company's renowned technology is firmly relegated to a back seat. Instead Jakob Müller Group is offering a fresh and innovative web experience which sets out its priorities with total clarity.
Of course, Jakob Müller is known worldwide as a manufacturer of systems and solutions for narrow fabric production. Its research, development and production of top technology has evolved continuously since its foundation in 1887. Innovation has always been at the core of this success story, based on recognition of customer needs and demands. And that customer focus now takes centre stage in the completely reconceived website.
Welcome home
The concept aims to take visitors to www.mueller-frick.com instantly into a familiar world, with a feeling of coming home and comfortable sensations of happy childhood memories. It's designed to offer a welcome to memorable moments, enfolding the visitor in a pure-life experience which creates a lasting impression.
This welcome to Jakob Müller Group might be a surprise. But it signals the group's wish to become part of the customer's whole world, showing how it already empowers countless products used, without a second thought, in everyday life. The design concept uses discreet visual hints to point up awareness of some of these items we often take for granted.
Fashion, home textiles, automotive, medical and industry — all these are fields in which Jakob Müller helps to shape the future. And these sectors are used as anchors for website orientation, with red frames guiding the visitor through the wide application ranges. At a single click, users can find the best way to manufacture a specific product. Professionals in the narrow fabrics and ribbon industry can access detailed information on every aspect of their work. The range spans yarn warping to the finished product, crochet knitting to woven labels, and individual machines to complete system solutions.
Explore the right partnership
Jakob Müller Group is keen to show what its products and ideas can mean for everyone. Values such as quality, safety, customized and innovative solutions are at the core. As a service-oriented partner, the group is committed to ensuring that these aspects match the highest expectations. "Finally, the website should provide the answer if our technology fits the customers world," said Robert Reimann, CEO at Jakob Müller Group.
Underpinning the whole story are solid principles of trust, experience, the famed Swiss precision and social and environmental responsibility. Together they make Jakob Müller the ideal partner, sure to prove its long-term worth and make a significant contribution to customers' market success. "We would like to invite individuals to explore our website and find out why Jakob Müller could be the ideal partner for them," Reimann said.
Posted May 18, 2021
Source: Jakob Müller Group