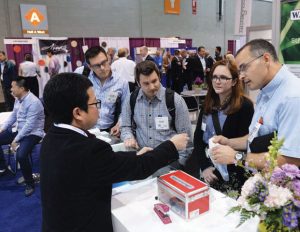 The triennial IDEA show focused on the nonwovens and engineered fabrics industry is returning to the newly renovated Miami Beach Convention Center.
TW Special Report
The Association of the Nonwoven Fabrics Industry (INDA), Cary, N.C., is gearing up for its upcoming triennial IDEA show, to be held March 25-28, 2019, at the Miami Beach Convention Center in Miami Beach, Fla.
IDEA — a show catering to the nonwovens and engineered fabrics segment of the technical textile industry — is held every three years in a rotation schedule with the INDEX show in Europe and ANEX, which is held in Asia.
"This is an extremely fragmented industry with numerous and varied end-uses using a variety of fibers and polymers delivered in multiple constructs," said Dave Rousse, president, INDA. "This is also a growing industry with continuous innovation and numerous growth drivers offering steady revenue. IDEA brings this all together in one place, once every three years."
INDA anticipates more than 550 exhibitors and 7,000 visitors from more than 70 countries at the event. IDEA visitors come from all sectors of the market including wipes, apparel, geosynthetics, transportation, absorbent hygiene, home and office furnishings, building construction, filtration, and medical and surgical, among other sectors. Job titles run the gamut from senior leadership to research and development to purchasing.
IDEA2019 kicks off with a welcome reception and INDA's 50th anniversary celebration to be held in the Grand Ballroom of the Miami Beach Convention Center, Monday, March 25, from 8 to 10 p.m.
Educational Opportunities
The IDEA2019 conference will feature outlooks of select nonwoven industries at the regional level presented by industry experts (See IDEA2019 Schedule At A Glance). Each day, conference sessions will be held from 9 a.m. until 10:30 a.m. prior to the exhibit halls opening.
INDA has added some training courses to the educational line up in Miami. Six "short courses" will be offered under the "The Essentials in Nonwovens: Basics in Key Areas" umbrella. All three recommended tracks begin with a five-hour Making Nonwovens course. Then the Absorbent Hygiene track continues with a diapers and incontinence course followed by a course on femcare and hygiene. The Filter Media track offers courses in air filter media and liquid filter media. Lastly, the Wet Wipes track includes a three-hour course on wet wipes.
Attendees can sign up for all individual courses or may choose one of the three tracks depending on budget and learning needs.
"All of these courses are led by experienced industry instructors, including Terry Young, former Proctor & Gamble Research Fellow in Hygiene products, and Dr. Behnam Pourdeyhimi of North Carolina State University and the Nonwovens Institute," Rousse said. "These educational opportunities are great add-ons to the value attendees get from IDEA."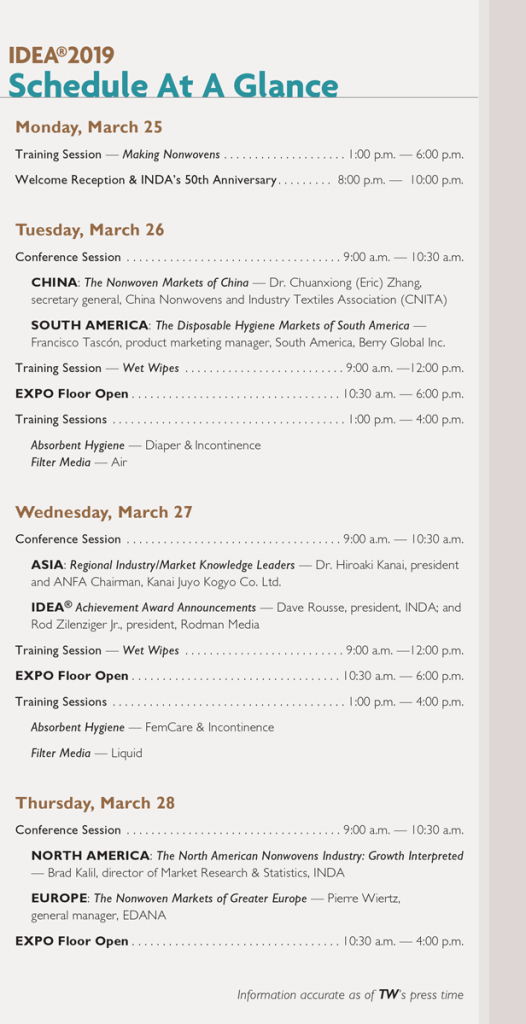 IDEA® Achievement Awards
Presented by INDA in partnership with Nonwovens Industry magazine, the IDEA Achievement Awards are presented every three years in conjunction with the IDEA event.
The awards recognize leading companies, individuals and new products in the global nonwovens and engineered fabrics industry. The following five awards will be presented:
IDEA Equipment Achievement Award;
IDEA Roll Goods Achievement Award;
IDEA Raw Material Achievement Award;
IDEA Short-Life Product Achievement Award; and
IDEA Long-Life Product Achievement Award.
"The IDEA2019 Achievement Award presentations recognize the best new product introductions in five categories since the last IDEA in 2016," Rousse noted. "We have a great slate of candidates, narrowed to three finalists in each category from a list of more than 50 submissions. We will also provide awards for Lifetime Achievement in the Nonwovens Industry, and the Entrepreneur Achievement Award. "
Winners will be announced Wednesday, March 27, at 9:30 a.m. after the first conference presentation.
"The nonwovens industry is a continuously evolving, dynamic and diverse industry," Rousse said. "I am encouraged to see the continuing usage of nonwovens in novel ways and in the expanding universe of companies involved in the nonwovens industry. INDA is pleased and proud to host this wonderful industry at this year's IDEA event, and look forward to many more."
---
For more information about IDEA® and to view a full event schedule or register, visit idea2019.com.
---
February 20, 2019