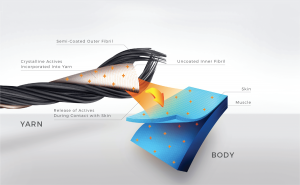 Textile start-up company TexDel is using filament yarns as a delivery mechanism for vitamins, supplements, pain relief treatments and a variety of medications.
By Jim Kaufmann, Contributing Editor
The latest evidence demonstrating the influence of textiles' continuous evolution on the quality of human lives is a new technology being developed and commercialized by Textile-Based Delivery Inc. (TexDel), Conover, N.C. TexDel has created a proprietary system that embeds active ingredients in traditional filament yarns such as nylon and polyester, which when made into garments using standard textile practices, results in a controlled manner of delivering the active ingredients into the wearer's body.
Jordan Schindler, TexDel founder and CEO, first considered the concept of using textiles as a delivery mechanism while a student at the University of Washington. "I had issues with acne and learned from my dermatologist that dirty pillowcases were a leading cause of blemishes, so I set out to create a pillowcase that when in contact with the skin could treat blemishes instead of causing them," Schindler said. The result of this initial effort, branded Nufabrx®, was the development of a technology and a fabric infused with active ingredients — including lavender, lemon balm and winter green oil — that could be released in a controlled manner. This initial effort also led Schindler on a journey where, as the old saying implies, "it is a profound truth that one thing does lead to another."
Developing the Nufabrx pillowcase and numerous related discussions led Schindler to the realization that textiles could be effectively used as a drug delivery system. This direction was further enhanced by a rather personal connection. Explained Schindler: "My grandfather has Alzheimer's. It affects his mood. He doesn't want to or doesn't remember to take his drugs. It's funny though, he doesn't know my name or what day it is, yet he still manages to put his socks on every morning. So, imagine if we can create socks having a controlled ingredient delivery system for him, it's a win, win! That's the direction we wanted to head."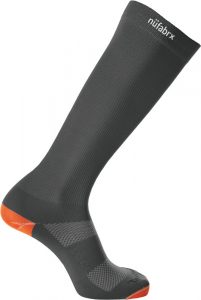 TexDel Finds A Home At MSC
One thing led to another and after developing a series of contacts within the pharmacology world, Schindler realized those contacts needed to be blended with an equally capable series of textile industry contacts in order to foster his concepts. He also realized that the Seattle area had rather limited textile industry resources. During a road trip to identify textile resources, Schindler came into contact with the Manufacturing Solutions Center (MSC) in Conover and soon realized he had found a new home base for TexDel.
The MSC is a non-profit organization and division of the Catawba Valley Community College. Established in 1990 by Dan St. Louis as the Hosiery Technology Center, MSC has grown into a strong resource for the area's textile manufacturing community, an accredited testing facility with diverse capabilities and an incubator of new technologies. "Our focus is on creating a manufacturing future for this area," stated Dan St. Louis, now MSC's executive director. "We enjoy working with entrepreneurs like Jordan to develop new business opportunities."
For Schindler and TexDel, it was an ideal fit. "We've been here almost three years now and they've been great to work with," Schindler said. "It's very convenient when we can make an infused yarn on our equipment, walk down the hall to one of their machines and turn it into a sock, then go around the corner to the lab and have it tested. Dan has been great and knows so many people in the industry which has also been a big help. Non-diluted capital is precious, so the resources and connections available through MSC are incredibly valuable for us as a start-up and something most investors don't have," he added. "We'll always have a presence at MSC. The convenience to their technology and resources, as well as the foot traffic through the facility, is equally important."
Embedded Ingredients = Smart Fabrics
When most people hear the term smart fabrics their first inclination is towards electronic textiles or E-textiles that incorporate some variation of electronics allowing the fabric to conduct electricity and connect to digital components such as smart phones or computers. TexDel's Nufabrx branded fabrics do not incorporate electronics, at least not yet, but they certainly are equally smart. TexDel has developed and continues to improve upon a patented methodology of applying a consistent level of ingredients directly to individual fibers or filaments of a yarn. Its equipment can produce sufficient quantities for current customers, and TexDel is scaling through accredited contract manufacturers. Given the critical nature of its target applications, maintaining a high level of quality and tight control parameters is of fundamental importance to TexDel.
Ingredients embedded in the yarn through the TexDel process are not limited to any particular family of drugs and can include vitamins, supplements, anti-fungal treatments and a variety of medications. "There's lots of possibilities," offered Schindler. "We can tailor the content and delivery rates specifically to the customer's needs. Testing gives us an accurate profile of what's happening in the yarn and resultant garments. It's shown that the application process is consistent and repeatable. We've also found it to be durable and not affected by repeated machine washings and dryings as long as low temperature cycles are followed and no bleach is used."
Because of concerns that high temperature processing could damage the application and/or the ingredients involved, only solution dyed polyester and nylon yarns have been produced to this point reducing any concerns associated with dyeing and finishing. Natural fibers, spun yarns and other polymer types also are in development.
Conventional fabric-forming methods are employed to turn the treated yarn into any number of textile fabrics or garments. The treated yarn also can be used as a cover or wrap for stretch applications. Knitting currently garners much of the focus because of the technology's ability to effectively plate and control yarn positioning. According to Schindler: "The delivery technology is most effective when the treated yarn can be positioned specifically against the skin. The ingredient delivery mechanism works similar to a transdermal patch and is activated by the skin's temperature and moisture."
Pieces of treated fabric also can be incorporated to target specific areas consistently and repeatedly in a sewn garment such as a T-shirt or yoga pant. Testing of garments have shown that the Nufabrx delivery system, through repeated wash and wear cycles, produces a roughly six-month usage profile for the ingredient's effectiveness. However, even after the ingredient's functionality wears out, the product is still wearable as a normal garment. TexDel is working on different methods for signaling the consumer when the ingredient functionality has depleted. Also, from a manufacturer's perspective, having a product with a predefined shelf-life hopefully necessitates more inventory turns.
Application Potential
As one can imagine, given the nature of this technology and its perceived effectiveness, applications abound. "It's a fact that people just don't like to take pills, so we're hoping to improve upon the process by using their garments as the delivery system, in essence making drug delivery a non-event," Schindler said. "Test results have shown that our products can deliver the same measured therapeutic doses as creams or pills in a predictable and controlled manner. The technology, so far, is really not limited to any particular family of ingredients, though we plan to stay away from some areas like opioids and steroids due to the stigmas attached along with the associated risks and complications. It's more of a business decision we've made to focus efforts, start simple with over the counter, safe ingredients, develop the technology further and create a market presence. So, we believe targeting the topical pain relief applications such as patches, creams and some of the copper and silver treated wrap and sleeve technologies being offered to be the most effective path for us to generate some early successes."
TexDel intends to follow a strategy similar to that employed effectively by W.L. Gore with its Gore-Tex technology by focusing on creating the technology then licensing the product and brand to approved manufacturers. "We feel the athletic space is our core market to start with and actually welcome competitors to this new arena because there is such broad potential for products and markets, Schindler said. "But, we will be very careful and smart about how we go forward, who we work with, both from the production of the technology and how it is used and marketed in a final product form. We're focusing on fast moving e-commerce brands to generate successes. As a small business, cash flow is very important, and I've found that big brands can be hard to work with due to the layers of decision makers that typically result in slower speeds to implementation. Especially when compared to the fact that I can make a new product and launch it on Amazon in a couple of days generating sales — maybe a week or two if I want fancy packaging!" According to Schindler, TexDel is currently working with four different manufacturers in the area and focusing on several upcoming new product launches.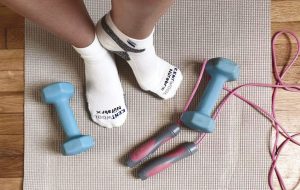 Kentwool Partnership, Future Outlook
This strategy appears to be working out well so far for TexDel. Kentwool — based in Greenville, S.C., and highly regarded for its performance sock lines — has partnered with TexDel and recently introduced the SensationWool Therapeutic sock on its website, as "the first and only sock with fiber treated for pain relief, our most revolutionary sock to date."
The socks are manufactured using a blend of Merino wool and TexDel's "Nufabrx nylon infused with capsaicin and a synthetic cooling agent. A combination of warming and cooling ingredients that provides temporary relief of foot-related aches and pains." According to Schindler: "The first run sold out in a week. Kentwool also did a 200-person user study that found 64 percent noticed increased comfort and pain relief and 83 percent said they would buy the product."
TexDel also recently announced it had received a $1 million dollar award to be distributed over 10 months from Advanced Functional Fabrics of America (AFFOA), Cambridge, Mass., to accelerate the development of medicine delivering fabrics for consumer and Department of Defense applications. "This is the first award through AFFOA presented to a start-up company," Schindler said. "It is a nice fit and really ties in well with what we're currently doing. We need to show commercial traction and the deliverables and milestones line up well with what we're doing and what the market seems to want."
The program's initial focus is to further develop socks incorporating pain relief ingredients for soldiers who tend to be on their feet all day, sometimes hiking long distances while carrying full packs. "When soldiers are packing, critical choices have to be made on what goes and what stays and often drugs are left out. If we can turn socks into a delivery system for the drugs, it's a two-for-one opportunity. The bonus is they don't have to worry about the timely taking of drugs. It just happens automatically through our technology," Schindler stated.
Earlier this year, Yoel Fink, AFFOA CEO and professor at the Massachusetts Institute of Technology, was speaking of changes in the textile industry and profoundly stated: "You're no longer going to pay for the shirt. You're going to pay for what that shirt does for you. You pay for the service and you get the fabric."
TexDel and its Nufabrx branded line of products present a fine example of how true this statement can be for the continually changing textile industry. Or as Schindler so eloquently stated: "It's actually all about identifying simplicity from complexity. That's really where the value is delivered!"
November 21, 2018