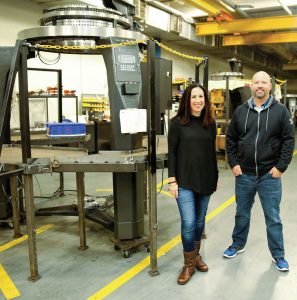 More than 100 years after first opening its doors, Vanguard Pailung still finds success as the United States' only circular knitting machine builder by focusing on technology it knows best.
By Jim Kaufmann, Contributing Editor
In this day and age, any company still in business after more than 100 years has to be doing something right. If that company happens to be manufacturing circular knitting machines for the textiles industry and actually continues to build them in the United States, then it really has to be doing just about everything right, pretty much like Vanguard Pailung.
The quick, greatly abbreviated version of a 100-plus-year story begins in 1916 when a small family business, originally named Supreme Knitting Machine Co., began manufacturing and selling circular knitting machines. In 1972, Bill Moody began working for the company then known as Singer Supreme. Beginning in accounting, he rose through different positions before joining with other investors to buy the company in 1978. After riding "the wave of success" for several years, the company was sold to Monarch in the late 1980s and became Vanguard Supreme, where Moody remained until 1998 when he left to start Nova Knitting Machinery. In 2001, Nova Knitting entered into an exclusive marketing agreement with Pailung Machinery Mill Co. giving Nova the rights to sell Pailung knitting machines in North and South America. In 2009, Vanguard Supreme was for sale and Moody, the now-retired Leo Yates and Pailung created a partnership to acquire the company from Monarch, thus creating Vanguard Pailung.
Today, Vanguard Pailung is the only remaining manufacturer of larger diameter circular knitting machines in North America and is riding a new wave of success by producing machines highly regarded for their speed, reliability and overall productivity. But when success was mentioned to Moody, now president of Vanguard Pailung, he modestly said, "Well, we just work in luck." Spend several hours with him and others at their facility in Monroe, N.C., and it quickly becomes apparent that there's a bit more than luck involved in the company's success. A solid commitment to equal parts focus, family, foundation and the future certainly have formed the backbone of the success.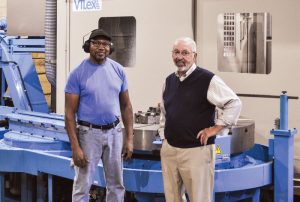 Focus
Unlike many companies in today's marketplace, Vanguard Pailung decided long ago to specifically focus on what it does best. As a result, there is a clear understanding of whom its customer is, what the expectations are and how the machines need to perform. Vanguard Pailung focuses on producing high speed, commodity machines — basically the workhorses of the weft knit fabrics industry. The "Titan Pro Series," Vanguard Pailung's hallmark offering, is manufactured to extremely tight tolerances using the highest quality materials. This combination reduces heat build-up and vibration during knitting, which reduces parts replacements and increases the machine's working life, even at higher running speeds. Machine offerings include four-track single jersey, three-end fleece and rib configurations. Knitting cylinders are available in 4- to 36-inch-diameters and from 7- to 36-gauge cylinder and dials. The company's partner, Taiwan-based Pailung, currently offers more than 80 machine models including many with jacquard selection capabilities. Combined offerings from the two companies create what is likely the most diverse range of weft knit product offerings in the world.
"We wanted to focus on the technology we knew best and make it better than anyone else" said Moody. Since Vanguard Pailung's machines represent "bread and butter" offerings for the circular knitting industry worldwide including T-shirt and polo shirt, stretch and fleece fabrics among other fabric types that continue to feed the casual clothing boom, Moody realized that they needed to separate the company's products from other machine manufacturers. "We asked 'how do we reduce costs, but not performance,' and simply focused on improving our machine's overall quality and productivity," Moody said.
Vanguard Pailung continues to invest heavily in engineering and equipment. "By improving our engineering and design team we're now able to create more efficient and effective knitting machines," Moody added. New equipment has improved manufacturing tolerances — "We now have extremely fine tolerances, down to 0.0005 inches on critical parts," Moody said — and overall machine quality. Major machining of parts along with all final machine assemblies are performed in Monroe. The bulk of all purchased components are made in the United States. Vanguard Pailung has been very conscious of sourcing, qualifying and working with local suppliers wherever possible. This allows for closer collaborations on integrating designs and making the sum of all parts even better. Its machines are known for some of the highest running rates in the industry. Specific configurations can run up to 2,100 speed factors — 70 revolutions per minute on a 30-inch diameter machine — for jersey knits, with high production rates resulting from the combination of running speeds, larger roll doffs and greatly improved overall quality. Even with the wealth of technology available through Pailung, Vanguard Pailung's focus still remains on this family of products because that's what it knows and what it does well.

Family
Moody is a proud family man and happy to mention that several Moody family members work at Vanguard Pailung in various positions. But it doesn't end with just his family; Bill is also quick to say, "There has always been an emphasis on family at Vanguard Pailung." The family feel is palpable when one walks through the office and manufacturing floor with any of the Moodys. "We want the employees to feel like family because, in essence, they are," Moody said. "We make a conscious effort to treat people how we want to be treated. We have a quarterly employee appreciation luncheon and produce an employee newsletter where fellow employees write many of the articles. We're rewarded by the fact that rarely anyone ever quits."
Vanguard Pailung also is not afraid to hire industry veterans, regardless of age. The veterans offer their knowledge and insights that assist in the training of younger and less experienced employees. This contributes greatly in retaining the high level of "tribal knowledge" embodied within a 100-year-old company. Currently, there are 115 people working at Vanguard Pailung, many with 20 years or more of experience. According to Moody: "We have people who've been here for many years, a couple at 50 years or more. The people we have, we're not going to lose. They're a very large part of the foundation that Vanguard Pailung is built on."
Foundation
More than 100 years in business coupled with Moody's nearly 50 years of involvement in circular knit textiles provides a pretty good basis for building a foundation for success. Add an experienced workforce that's intimately familiar with the products made, throw in a strong partnership with Pailung that greatly extends the product offerings and resources available, as well as giving Vanguard Pailung true access to global markets and there is the makings of a pretty solid foundation.
The fact that this solid foundation happens to reside squarely within the United States creates opportunities as well. "We are definitely seeing a shift in manufacturing coming back to the United States," stated Mike Moody, vice president, product development. "The fashion industry wants faster seasonal turnovers and they don't want to get caught sitting on what's left of large minimum quantities, not to mention the possibility of bulk container transport and customs issues associated with products coming from foreign countries. So there's more of a localized movement present." The phrase "Made in America" still holds cache in many areas as well. "Last year, we sold roughly 250 machines in North and South America," said Mary Kate Moody, Vanguard Pailung's vice president of sales. "Pailung has been a good partner and is helping us to expand into other global markets including Bangladesh and India, where our biggest selling point is that the machines are 'Made in America.'"
Product quality and constantly working to improve customer service continue to add strength to the foundation as well. "We won't ship a machine without a Vanguard Pailung technician going with it to ensure the customer is satisfied with our products," Bill Moody stated. "When we help customers set up their new machines, we entrust our technicians to train the operators and technicians on how to correctly work with the machines, which also aids in customer satisfaction." With an eye to the future and to improve and strengthen service outside of the the United States, Vanguard Pailung established a sales office and warehouse in Honduras along with offices in Mexico and Columbia to more effectively address South American markets.
Future
"We're engineering the future of knitting machines," suggested Bill Moody, and the company's "Wildfire program is helping us to lead the way." Wildfire Knit Works is a division of Vanguard Pailung that wears many hats. Effectively a design and research and development consultancy led by Mike Moody and Mandi Strickland, Wildfire offers its clients — who range from OEM's and mills to individuals with new concepts — assistance in turning ideas into reality fast and efficiently. Similar in scope to Pailung's Open Innovation Labs, Wildfire can advance concepts and ideas; offer support in fiber and yarn selection, fabric design and sourcing needs; act as a translator to ensure efficient communication of ideas and designs into realities; and provide inspiration for new ideas through its industry knowledge and the availability of vast fabric and design resources within Vanguard Pailung's and Pailung's innovation libraries. "When we bought the company, we were T-shirt people," Bill Moody said. We knew we needed to expand our knowledge base with the markets changing and the opportunities presented by segments of the industry coming back to the U.S. Wildfire helps us do that."
"We offer existing and new clients at all levels of the supply chain the opportunity to begin with the ideal machine and then work towards finding an ideal solution," Mike Moody said. "This allows our clients to focus on function and performance rather than possibly being forced to accept a compromise because of a mill's machine availability."
The future is bright at Vanguard Pailung, with Wildfire's innovative approach to design and ideation and several new machine offerings on the way. Vanguard Pailung will be introducing its first collar machine in the coming months, and a new Knit Management System (KMS) that supports Industry 4.0 initiatives is up and running and extending customer support to new levels. The company also has begun offering used and refurbished machines to give customers additional cost-effective options. And as one might expect, there always are a number of ongoing research and development projects in the works.
Demonstrate a solid focus, strong family values, stable foundation and a clear eye to the future, and is it any wonder why Bill Moody and Vanguard Pailung are "working in luck?"
October/November/December 2017