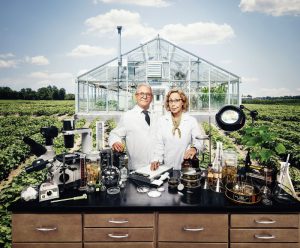 Cotton Council International recently launched a new promotional campaign for U.S.-grown cotton
TW Asia Special Report
This year, Washington-based Cotton Council International (CCI) — the export promotions arm of the National Cotton Council (NCC), Cordova, Tenn. — launched a new campaign for U.S.-grown cotton: "COTTON USA is the Cotton the World Trusts." The entire U.S. cotton industry — farmers, ginners, warehousers, merchants, classers, cooperatives, and manufacturers — is proud to be able to work together to create cotton fiber that is preferred for quality and is truly "The Cotton The World Trusts." CCI carries this message to more than 50 countries through its 20 worldwide offices.
U.S. cotton offers manufacturers, as well as consumers, many benefits. It is a high-quality fiber produced in a sustainable and transparent manner while harnessing the latest industry innovations and offering premium value.
Sustainability
U.S. cotton is produced sustainably and is fairly grown. Family farmers own the land. Their fields have been in their families for generations, so it's in their own best interest to protect them for future generations.
Furthermore, U.S. cotton is governed by a strict regulatory system. Environmental and workplace regulations are strictly enforced by federal and state agencies and the penalties for non-compliance are both civil and criminal. Farmers fill out extensive paperwork and are inspected by both state and federal officials. This comprehensive system of sustainability measurement is at the forefront of the industry.
Figure 1 shows the U.S. cotton industry's continuing commitment to the environment with 35 years of reduced environmental impact.The U.S. cotton industry also uses Precision Agricultural Management — innovative technologies that use high-tech measurement systems driven by computers to achieve high quality and yield using less water and fewer chemicals. New technologies are the key drivers for precision agriculture. For example, unmanned aerial vehicle (UAV) technology allows producers to "map" fields, so they know exactly where inputs are needed, and they can use small precise dosages of water or plant protection products. Computer driven moisture sensors improve water efficiency. "No tillage" techniques also are employed to preserve the soil.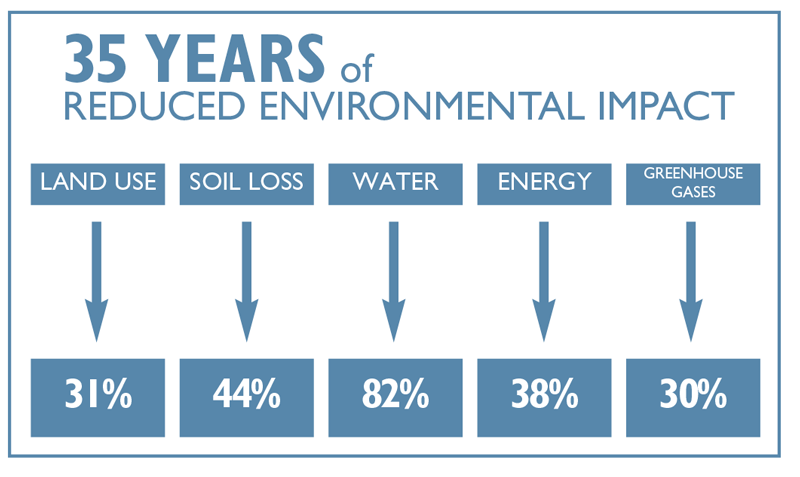 With the goal of helping its members meet their current needs while making the world a better place for future generations, the U.S. cotton industry is setting goals that aim to build upon the strong environmental gains already achieved over the past 30 years.
"Our industry wants to be the supplier of choice for those who are committed to only buying cotton that is produced with sustainable and responsible environmental, safety and labor practices," said NCC Chairman Ronnie Lee, a Georgia cotton producer. "That is the objective that was set by the Council's COTTON USA Sustainability Task Force."
Task Force Chairman Ted Schneider, a Louisiana cotton producer, said the actual sustainability resolution that the Council adopted earlier this year called for the creation of the sustainability task force and specified that it collaborate with U.S. cotton industry associations "on developing industry-wide goals for measurable continual improvements in environmental stewardship, farm productivity, and resource efficiency such as land, water, air, input, and energy use."
Schneider mentioned some of the specific goals being pursued by 2025, including:
reducing by 13 percent the amount of land needed to produce a pound of cotton fiber;
reducing soil loss by 50 percent, in balance with new soil formation;
increasing water use efficiency — more fiber per gallon — by 18 percent;
reducing greenhouse gas emissions by 39 percent;
increasing soil carbon in fields by 30 percent; and
reducing energy to produce seed cotton and ginned lint by 15 percent.
"U.S. cotton growers have achieved significant environmental gains over the past three decades," explained Schneider. "The goals are meant to continue that trend and to reinvigorate efforts through the setting of realistic targeted reductions."
"We believe the United States may be the only country in the world with these kind of specific, measurable, quantified goals," said Dahlen Hancock, chairman of Cary, N.C.-based Cotton Incorporated's Board of Directors. Cotton Incorporated's scientists have worked diligently to develop and refine U.S. cotton's sustainability initiative.
Hancock, who is a Texas cotton producer, said the U.S. cotton industry is using science-based metrics and benchmarks developed by Field to Market: The Alliance for Sustainable Agriculture to assess environmental impacts and identify opportunities for improvement. Field to Market works across the entire agricultural supply chain to define, measure and advance the sustainability of U.S. crop production.
Hancock also is the former chairman of CCI, and said the organization looks forward to "sharing with U.S. cotton's global customers the strides our industry will continue to make in providing the world with responsibly produced, quality fiber."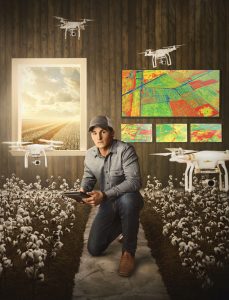 Quality
Quality in. Quality out. That's why, when mills, manufacturers, brands and retailers want strong, consistent and uniform fibers, they turn to COTTON USA. Since the mid-1980s, U.S. cotton fiber has undergone an enormous transformation. Intensive research and superior technology has produced a cotton product that's now whiter, finer, stronger and cleaner.
The U.S. cotton industry prides itself on offering high quality, no matter what grade of cotton is specified. From jeans to sheets to the finest white shirts, the industry delivers. A comparison of the classing data from the last 10 years shows that the U.S. cotton industry has truly become a one-stop supermarket of cottons.
U.S. cotton is 100-percent machine-picked cotton. And the U.S. cotton industry has an ongoing and continuing commitment to educate growers and ginners on the latest technologies and practices for the elimination of potential sources of contamination.
U.S. cotton's fiber fineness, or micronaire, and color quality also are excellent. Micronaire is key to producing yarns for knit fabric formers. And U.S. cotton makes the job of dyeing yarn much easier. Most U.S. cotton now classes as a white grade, the easiest fiber to dye, as compared to spotted or tinged grade.
As spinning and fabric forming speeds increased, perhaps the greatest demand on fiber was for increased strength. The U.S. cotton industry uses innovative seed varieties scientifically developed to provide stronger, longer cotton fibers. The longer fiber allows for more twist to be applied during spinning. The increase in twist produces yarn and fabric strong enough to knit and weave the highest quality cotton fabrics.
Recent COTTON USA mill studies show how using U.S. cotton leads to processing efficiencies that reduce costs. The research examined U.S. cotton quality, spinning and fabric manufacturing results. CCI conducted nearly 60 mills visits in six countries to present the results of these studies, and will continue to conduct one-on-one meetings with global textile mills to maximize the use of U.S. cotton.
Transparency
COTTON USA has become the cotton the world trusts because of years of transparent partnership. U.S. cotton is fairly traded, and the U.S. cotton industry stands behind its bales. And the United States is the only country in the world that tests 100-percent of all its bales. Not every fourth or fifth. Not even every other. Every single bale. So a customer knows he will receive what was ordered. It's just one more example of the U.S. cotton industry's commitment to excellence — and your satisfaction.
The U.S. cotton industry uses the latest computer classing technology to make sure every bale is fairly and correctly classed. And its stringent processes insure uniformity and consistency within classes.
Every bale has its own Permanent Bale Identification (PBI) tag. As each bale goes through the ginning and classing process, this tag goes along with it. So a buyer always knows where, when and how the bale was harvested, ginned and classed.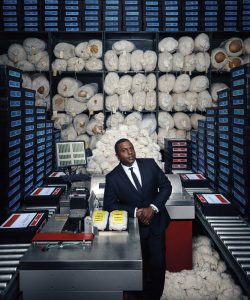 Premium Value
COTTON USA is committed to creating programs, networking opportunities and educational forums that benefit mills, manufacturers, brands and retailers. It's all a part of the premium value that COTTON USA brings to the entire supply chain. This dedication to helping build closer relationships between suppliers and buyers benefits the entire industry.
To help facilitate its goals, COTTON USA introduced a new global website located at cottonusa.org. Translated into 12 different languages, the site offers mills, manufacturers, brands and retailers economic data, global supplier search capabilities, and new developments in the areas of cotton sustainability, quality, transparency and innovation. The new COTTON USA website is totally focused on serving business needs, and newly built to connect, educate and inspire the entire cotton supply chain.
COTTON USA also provides sourcing services and networking opportunities. The biennial Sourcing USA Summit brings together U.S. cotton merchants with the world's premier mills and manufacturers in the industry's largest event. COTTON USA provides information on the latest innovations in cotton production through ongoing seminars, conferences, executive delegations and U.S. Cotton Belt tours that update textile executives on U.S. cotton industry developments, techniques and processes. Through COTTON USA Buyers' Tours and Sourcing Fairs, CCI facilitates the sourcing process for the buyers by preselecting manufacturers and providing basic company profile information based on the buyers' needs.
Furthermore, the COTTON USA Sourcing Program is a successful partnership between CCI and a group of U.S. cotton textile manufacturers designed to develop business relationships along the entire cotton textile and apparel supply chain. CCI has developed relationships with companies throughout Latin America through private trade events, regional trade shows and personal visits.
The COTTON USA™ Mark licensing program continues to add value to customers' business. The COTTON USA Mark is a sign of softness, strength, comfort and sustainability to consumers around the world. It identifies superior cotton products made with a majority of cotton grown in the United States. In a recent hangtag study, the COTTON USA Mark was proven to add value for consumers. But even more significantly, consumers indicated they would be willing to pay more for a product with the COTTON USA Mark rather than a generic 100-percent cotton logo. CCI recently signed 136 new COTTON USA licensees, for a total of 714 licensed mills, manufacturers, brands and retailers that proudly use the COTTON USA Mark. It's easy to become a licensee — just ask a local CCI representative.
Innovation
To showcase a continued focus on innovation, COTTON USA launched its new "WHAT'S NEW IN COTTON™" initiative with the objective of inspiring the target audience to think about the many opportunities in U.S. cotton and ultimately to specify more U.S. cotton in their products. At recent international trade shows — including Premiére Vision in Paris and Intertextile in Shanghai, China — CCI, Cotton Incorporated and Supima collaborated to exhibit jointly in one large cotton pavilion and showcase What's New In Cotton including innovations in technologies, fabric blends, performance, design and fashion.
CCI also launched the innovative COTTON USA Mill Exchange Program in Southeast Asia, which enables textile mills to see firsthand how competitors are successfully using U.S. cotton in their mills to increase profits, as well as learn best practices.
CCI is dedicated to making U.S. cotton the preferred fiber for mills/manufacturers, brands/retailers and consumers, commanding a value-added premium that delivers profitability across the U.S. cotton industry and drives export growth of fiber, yarn and other cotton products. CCI's demand-building activities are critical in showcasing U.S. cotton's quality, sustainability, transparency, premium value and innovation — all of which make U.S. cotton "The Cotton The World Trusts."
October/November/December 2017