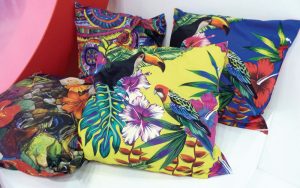 Digital printing technologies support this fast-growing segment of textile printing.
By Dr. Lisa Parrillo Chapman, Technical Editor
For the first time, InPrint — the premier exhibition for industrial printing technologies — will be held in the United States. The show is collocated with ICE USA 2017, the International Converting Exhibition (ICE), which will highlight machinery, technology and manufacturing processes for nonwovens and other flexible based materials.
The exhibitions in Orlando, Fla., April 25-27, 2017, will be of high interest to textile manufacturers involved in, or wishing to learn more about, industrial inkjet printing for textiles in market sectors such as automotive, furnishing and interior décor, labels, and packaging.
Industrial Digital Printing And The U.S. Market
Industrial digital printing can be 2-D or 3-D printing for decorative or functional purposes. Unlike decorative digital printing, which typically occurs as a roll-to-roll process before the product is made, industrial printing is integrated into the production line as a continuous process. For this reason, industrial printed products tend to require a highly specialized system.
The specialization is justified though because the benefits of digital printing are significant. In the print world, consumer demand calls for an increase in the color and image complexity, image quality, and variety of prints. Digital printing supports these customer demands by allowing for small production runs, shorter lead times and improved design aesthetics such as increased number of colors, fine line detail, gradients and photographic type imagery. The print-on-demand production ability of digital printing supports customized designs, leads to a decrease in time to market, and offers cost reduction and higher consumer satisfaction.
Consumer demand is forcing change within all manufacturing industries. Consumers are demanding higher transparency in the goods and services used to manufacture their products, assured safety, higher quality, increased functional attributes, and a wide variety of products delivered to them with lightning speed. The development of industrial digital textile printing technologies increases opportunities for U.S. job growth by creating new markets and better supporting established market segments. These new markets likely would come from an array of new products that cannot be made as cost effectively using traditional printing technologies. Examples include those products that may require multiple colorways, customizable imagery or text, the ability to print to shape, or where precise registration or placement of ink is required.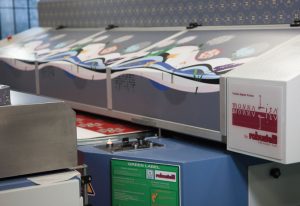 Conductive Printing
Considerable research and development currently is being conducted on printed electronics in flexible circuitry. Conductive printing would support consumer products for wearables and interior e-textiles designed for health and fitness monitoring, self-cleaning, and communication. England-based IDTechEx, a market analysis firm specializing in electronics, suggests that the highest compound annual growth rate of e-textile markets will be in the home textiles sector. As well as providing new functional attributes to the consumer, conductive digital printing provides improved manufacturing capability. For example, printed radio frequency identification labeling has a broad application range such as for material tracking in the supply chain process. Alternatively, a microchip could be embedded into the product to relay information throughout the supply chain or to provide to consumer care instructions. This information could be read and updated throughout the manufacturing, distribution and consumer stages.
Mass Customization
Digital printing enables mass customization and provides a competitive advantage for those companies wishing to manufacture closer to the point of sale. Because print designs are stored in a digital format and can be printed on demand, digital printing enables highly customizable products that can be made further down the supply chain and closer to the consumer. The shortened lead-times for domestic production will provide the U.S. customer with access to a quality, customizable product, at a low price in the dot com and retail markets. In addition, retailers can provide a more cohesive brand of products. For example, digital printing enables a retailer to provide a color and pattern coordinated range of products including wall covering, floor tiles, carpeting, bedding, stationary, tableware, and personal electronics. The labeling and packaging also may remain highly consistent.
The Luxury Market
The global luxury market generated more than $1 trillion in revenue in 2015 with the personal luxury sector making up about 13 percent of the total. Apparel products comprised approximately 25 percent of the personal luxury market, and brought in over $253 billion in revenue, according to consultancy.uk. Worth Global Style Network reports that the top three ways to attract future luxury consumers was through "exclusive collaborations with relevant partners (78%), secret and exclusive brand experiences (59%) and personalized online experiences (e.g. notifications) (53%)."
In a 2013 article published by Boston-based Bain & Co., Elizabeth Spaulding and Christopher Perry stated that allowing customers to create or add to their own specific product has "elevated customer loyalty and engagement" boosting sales by increasing the perceived value. Customers are willing to pay upwards of 20-percent more when customization options are available. Spaulding & Perry further stated that brands gain further benefits by being able to "gain insights from customized designs and fine tuning products in a feedback loop." This consumer preference data allows brands to utilize important information in new product development and marketing campaigns.
In its "Post-drupa Technology Forecast for Print and Printed Packaging to 2026" market report, England-based Smithers Pira lists enhanced luxury packaging processes as one of six key technology developments that will fuel revenue and new businesses. The report from Smithers Pira states there is "a new interest in enhanced ranges of print embellishment products and processes, to add luxury appearance and better tactile effects to printed products."
Industrial printing processes enable brands to more easily and and cost effectively manufacture customizable products, limited edition designs, and unique and higher quality packaging all while engaging the consumer with a more interactive shopping experience by allowing the customer to co-design.
InPrint Highlights
At InPrint, digital printing machinery and chemistries will be shown from leaders in the digital textile printing arena including Italy-based EFI Reggiani and Fujifilm.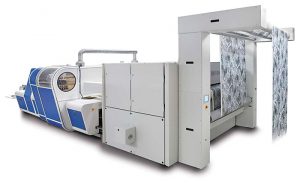 EFI Reggiani's array of digital textile printers enables highly efficient industrial manufacturing to support personalization and quick response for home interior and apparel products. Complementary technologies, such as EFI's newly acquired Optitex 3-D design technology, bring yet another essential layer of time-savings and automation to industrial manufacturing. The Optitex 3-D design software for industrial fabrics and upholstery reduces fabrics wastage, cuts labor cost and maximizes productivity using automatic nesting software and enables product developers to visualize designs as true-to-life, photorealistic 3-D images. These digital technologies can cut back on lead times, make it practical to generate lower and variable volumes, and cater for different world demographics and trends. EFI states that none of these criteria were possible with analogue methods that are geared for long runs that cannot be easily adapted to changing market needs once production is underway. The old model of industrial analog printing leads inevitably to overstocking and, often, to loss-making heavy discounts on manufactured goods.
Robust printhead technology is needed to support the high-speed printing required for industrial digital printing, as color shifts and print defects will occur if the nozzles are clogged. Stability of colorant is usually most problematic with pigments , but can be an issue with dye-based colorants as well.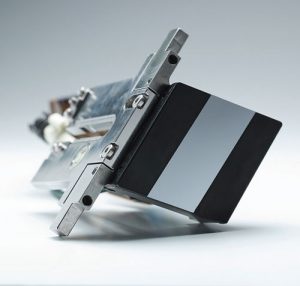 The Fujifilm Samba printheads incorporate a recirculating ink channel system that prevents ink clogging. The SAMBA™ piezo MEMS printhead platform is facilitating the creation of families of sophisticated printheads for jetting a wide range of inks for decorative and functional applications, and is installed in a number of different types of industrial printing machines. Fujifilm also will demonstrate water-based and ultraviolet (UV) inks. Fujifilm Imaging Colorants is a global leader in the development and supply of high-performance dye and pigment-based colorants and inks for aqueous ink-jet digital printing applications.
Fujifilm also was responsible for commercializing the UV-cured inkjet inks that fueled the world's first UV flatbed inkjet printers. A key factor in the growth of inkjet in the wide format, packaging and industrial markets has been the ability to print with UV-curable inks.Pigments developed for inkjet printing typically have a smaller printable range of colors or color gamut, and lower wash and wet and dry crockfastness than dyes, but have increased UV resistance and save time and money because they do not require a post-washing step.
Future Outlook
As industrial printing companies find that established markets related to office and advertising mature and decline, textile markets offer potential for high growth. Boston-based I.T. Strategies estimates the U.S. analog and digital print market at $31.5 billion with textiles comprising one of the largest print categories. By 2020, I.T. Strategies predicts an 18-percent growth in printed textile vendor and retail revenues. Traditionally, textile coloration processes such as textile dyeing, screen-printing and fabric graphics were created in other countries because of high labor costs and environmental regulations in the United States. Industrial digital textile printing technology has lower labor requirements and offers the potential to have lower environmental impacts in areas such as chemical, water, energy and material usage. More importantly, industrial digital printing encourages U.S. market growth by enabling new product innovations such as conductive printed textiles, increased speed-to-market for customized products, and improved print aesthetics to support the decorative and luxury markets.
January/February/March 2017