The fifth edition of the combined ITMA Asia + CITME show moves to a new venue.
TW Special Report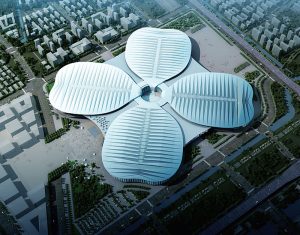 ITMA Asia + CITME returns to Shanghai October 21-25, 2016, at a new location – the National Exhibition and Convention Centre (NECC). Despite some controversy within the industry about the show's decision to run on a biennial schedule rather than the expected four-year cycle, and therefore coming on the heels of a successful ITMA 2015 in Milan, Italy, the show is shaping up to be a well-attended event. As of TW's press time, organizers reported approximately 1,600 exhibitors from more than 27 economies are expected to participate in October. At the close of space applications for exhibitors, more than 90 percent of the 180,000 square meters (m2) of exhibition space had been sold. In addition, organizers hope to attract more than 100,000 trade show visitors from around the globe.
The combined show is owned by the European Textile Machinery Manufacturers Association (CEMATEX), and its China-based partners the Sub-Council of Textile Industry, CCPIT (CCPIT-Tex); China Textile Machinery Association (CTMA); and China Exhibition Centre Group Corp. (CIEC). The event is organized by the Beijing Textile Machinery International Exhibition Co. and co-organized by MP Expositions Pte. Ltd. In addition, the Japan Textile Machinery Association (JTMA) is a special partner of the show.
"The high level of interest from exhibitors has reaffirmed ITMA ASIA + CITME as the leading marketing platform for textile machinery manufacturers seeking to tap the China market," said Charles Beauduin, president, CEMATEX. "We are pleased to provide them with a recognized platform for their strategic promotion and will ensure that the combined show continues to be a relevant and effective platform for sellers and buyers to transact business and to take advantage of the vast potential that China offers."
Exhibitor Make Up, Organization
More than 65-percent of the total exhibition space was reserved by Chinese exhibitors. Other countries that will be well-represented according to the organizers are Germany, Italy, Japan, Switzerland and Taiwan.
"We have seen a greater number of Chinese manufacturers signing up to exhibit at the combined show this year," said Gu Ping, vice president, CTMA. "Interestingly, nearly 30 percent of the applicants are first-time applicants," Gu added.
Exhibits will be organized by sectors that are based on manufacturing processes to aid visitors to find the machinery and other products they are seeking. Spinning machinery represents the largest sector, followed by finishing, knitting and weaving. Organizers report the nonwovens sector has grown by 20 percent since the show in 2014.
Organizers also promise that there will be stringent controls in place to protect intellectual property.
New Venue
The new facility, situated in the Hongqiao business district, offers easy accessibility and state-of-the-art amenities. This national center was co-built by the Ministry of Commerce of China and the Shanghai Municipal Government, and is operated by the Shanghai Exhibition Co. Ltd. The venue features 16 halls totaling 500,000 m2 of exhibition space — 400,000 m2 of which is indoor space, and 100,000 m2 comprised of outdoor display areas — a commercial center, office buildings and a hotel. The four facilities are linked by an 8-meter-high elevated pedestrian walkway.
Continuing Development In China
China's 13th Five-Year Plan (2016-2020) continues to encourage infrastructure construction, accelerates urbanization and is increasing environmental awareness in China. It is likely there will be high demand for technical textiles and nonwovens in China over the coming years.
"As China's textile industry continues its transformation, the demand for advanced machinery and technology is on the rise," said CTMA's Gu. "For textile manufacturers to keep ahead of the industry, they need to readjust their strategy to enhance overall production efficiency. They should adopt a longer-term outlook to focus on the quality of their products, which will ultimately contribute to their company's bottom line. This will lead to a demand for new machinery and technology to modernize and upgrade their existing textile equipment," Gu added.
According to CTMA, there were a total of 15,235 projects completed in 2015, which amounted to an investment of 1.09 trillion yuan.
"In view of these positive trends, which will spawn demand for better technologies, and the resounding success of the 2014 combined show, we are confident that participation in the upcoming show will be outstanding," Gu said.
Each day, the show floor will be open from 9 a.m. until 6 p.m. Visitors currently can receive a pass discount of 40 percent when registering online. Registration online will close October 18, after which time visitors may purchase passes on site during ITMA Asia + CITME.
---
For more information about ITMA Asia + CITME 2016, visit itmaasia.com.
---
July/August/September 2016