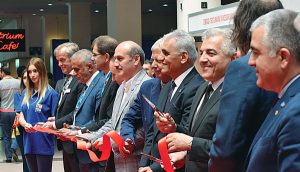 Recent ITM event attracted record visitor numbers
TW Special Report
ITM 2016 — held recently in Istanbul, Turkey, over a four-day period — hosted 1,200 exhibitors from almost 70 countries. The textile manufacturers occupied 13 halls at the venue — TÜYAP Fair Convention and Congress Center in Istanbul. The show is a partnership between Tüyap Fairs and Exhibitions Organization Inc. and Teknik Fairs Ltd. in cooperation with the Turkish Textile & Machinery Industrialists Association (TEMSAD). According to the organizers, sales totaling in the millions of euros were made and business relationships were established during the event.
Organizers report participation by exhibitors in weaving, yarn, digital printing and knitting halls in particular experienced growth over the past edition of the show. In fact, the digital printing segment experienced such large growth that the 2016 edition of the show featured a hall dedicated to textile printing machinery, digital textile printing machinery, dyes and chemicals, and related auxiliaries.
Visitors
Some 49,700 visitors attended the show traveling from 76 countries, which is a record for an ITM event. Home countries for the attendees included Iran, Egypt, Turkey, India, Pakistan, China, Ukraine, Italy, Germany, Algeria, Bangladesh, Saudi Arabia, Indonesia, Libya, Ethiopia, Ghana and Tunisia to name just a few of the 76 countries.
In addition, many official organizations and commercial committees attended ITM 2016. A number of purchasing committees were present from Iran, Egypt, India, Russia, Macedonia, Kyrgyzstan, Kazakhstan, Serbia, Bosnia and Herzegovina, Kosovo, Ukraine, Tunisia and Morocco.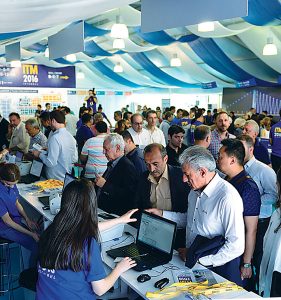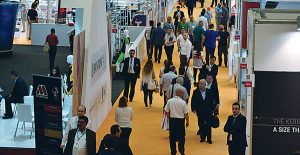 Feedback from ITM 2016 exhibitors was positive. "New opportunities can be attained through exhibitions like ITM," said Carlo Rogoro, CEO, Italy-based Itema S.p.A. "For us, ITM 2016 is the door opening to the Eastern European and Middle Eastern markets," said Bastian Fritsch, senior sales executive, Karl Mayer Textilmaschinenfabrik, GmbH, Germany. Adele Genoni, general director, Italy-based Reggiani Macchine S.p.A. also valued the opportunity to participate in a show like ITM in Istanbul: "Having an importance not only for Turkey, but also for the entire region, ITM 2016 is an unparalleled opportunity for us to meet our business partners."
Held every three years in Istanbul, expect ITM to return in 2019.
July/August/September 2016