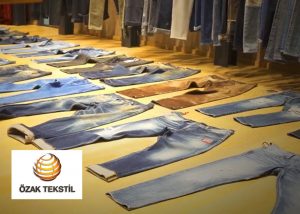 NEW YORK CITY — May 18, 2021 — For more than 20 years, Özak Tekstil has partnered with Gerber Technology and its Turkish distributor Glengo to transform its supply chain by integrating the latest technology so they can offer customers the best quality and lead time. The denim and knitwear manufacturer is once again relying on its trusted technology partners to revolutionize their supply chain by investing in Gerber's latest innovation, the Gerber Atria™ Digital Cutter. The innovative, digital cutting solution will empower Özak Tekstil to remain competitive by helping them meet customer expectations when it comes to quality, price and time to market. The Atria cutter will also allow Özak Tekstil to shorten the production cycle while improving the overall quality of their final product, allowing them to better serve global premium brand names.
"Turkey could not manage the pandemic as well as other countries, but we are glad to see many European countries recovering as Europe is 70 percent plus of Turkey's export," said Mehmet Aykut Vural, CEO of Glengo. "Gerber Technology has always been the leader in cutting technology but the Atria is by far the best cutter they have ever introduced and will be a great asset for recovery in the European market."
To survive in the denim and knitwear sector, Özak Tekstil understands how strategic it is to digitally transform in order to meet consumer expectations, such as quality and speed. With over 30 years of experience, Özak Tekstil had already been leveraging technology from design through the final product to cut 6,000,000 pieces per year at the highest speed with the best quality. With the investment in the Gerber Atria, the manufacturer will be able to better manage their supply chain by integrating the Gerber solutions they already have, including AccuMark® and AccuNest™. This will allow Özak Tekstil to accelerate time to market, improve quality and further reduce costs.
"We had already been working with Gerber and Glengo so we were pleased to see they were now offering a digital cutting solution that could cut high plies with maximum precision at a never before seen speed," said Güven Yalvaç, Production Manager at Özak Tekstil. "It is extremely important for us to have Gerber and Glengo as partners in order to get continuous, timely support and ensure our machine is always up and running."
The Atria cutter provides a more efficient and sustainable production environment for manufacturers with its ecosystem of software and hardware solutions. Since integrating the Atria, Özak Tekstil has seen significant throughput increases and a reduction in the number of markers, which has reduced cutting costs, opened the spreading table and enabled greater production. The solution will contribute to their smooth and problem free management of supply chain from order to production by enabling them to easily adapt to the sudden changes and uncertainties in the current business conditions.
Posted May 18, 2021
Source: Gerber Technology